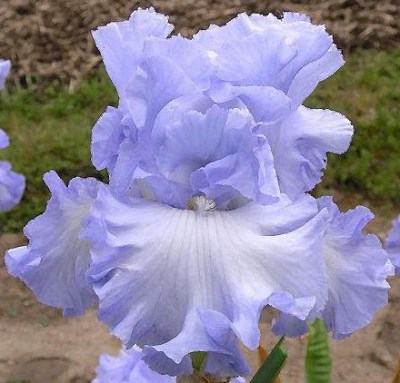 Standards sky blue, falls slightly lighter, extremely ruffled. Beards white. Slight sweet fragrance. Height 110 cm. The best blue iris for me, great!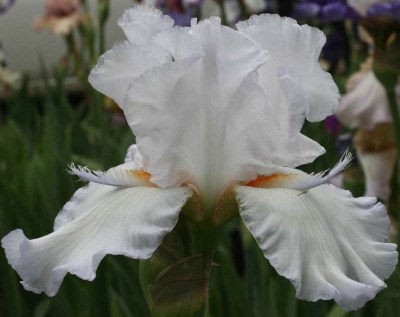 Bright white flowers, beards red orange with long, very pale blue flounce turning up at end. SA type. Flowers of medium size, ruffled. Slight sweet fragrance. Unique Space Age type.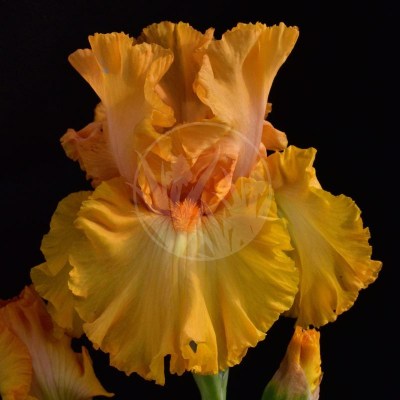 Deep orange yellow standards, slightly darker on the edges. Wide orange yellow falls with red beards. One of the best variety in this colour category. Exceptional form with strong ruffles. Late flowering season.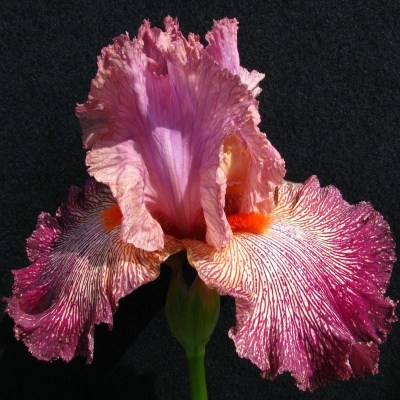 Raspberry pink standards, deeper rose falls distinctly veined, bright tangerine beards. Big flowers, nicely ruffled. Perfect branching of the stem, good bud count. Prolific and vigorous, healthy growth.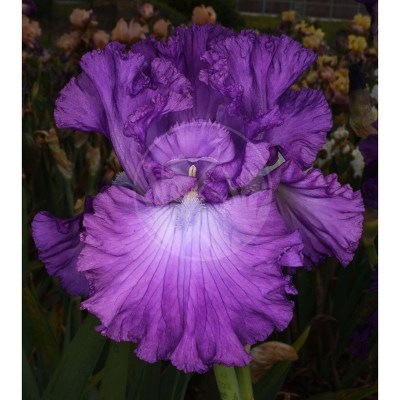 Rich color of royal purple standards and falls, round ruffled and lightly laced form. A hazy blue wash accents the light blue beards. Strong and tall stature. Precious form.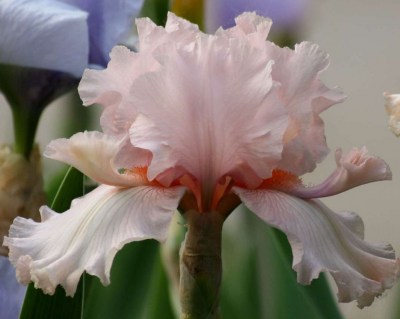 Standards and falls light pink, ruffled and lightly laced. Beards fire-red, elongated to pink flounces. Height 95 cm. Ellegant iris of the Space Age type.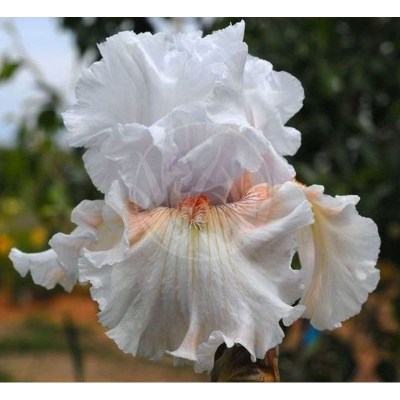 Standards white with fine pink venation, falls broad, curved, gold and deep pink at base, darker venation, beards white, tipped orange. Fine spicy fragrance.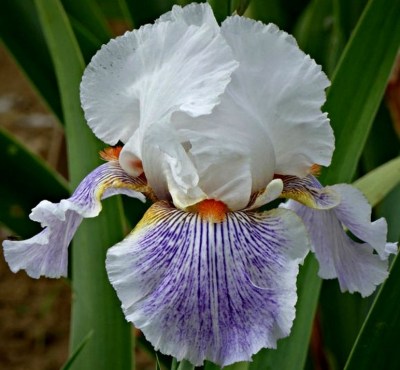 Standards snow white, falls closely spaced rays of dense violet dots on white base, 1 cm white border, near beards pale smoky brown. Beard hairs based cream-white, tips tangerine. Slight sweet fragrance. Excellent sort bred by Slovak breeder Anton Mego.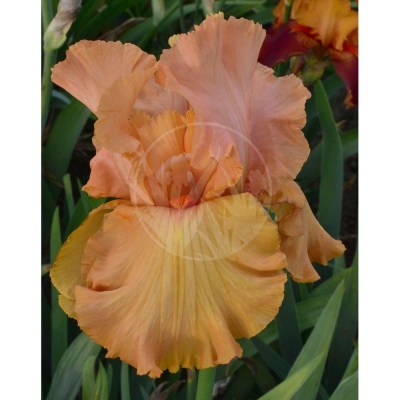 Flowers in tones of orange and apricot, glowing tangerine beards. Petals nicely ruffled. Reliable and precious form.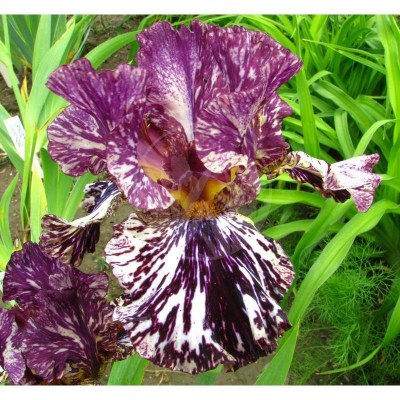 Standards and falls with outrageous combination of purple, gold and white, yellow-brown beards. Well-branched stem, reliable grower.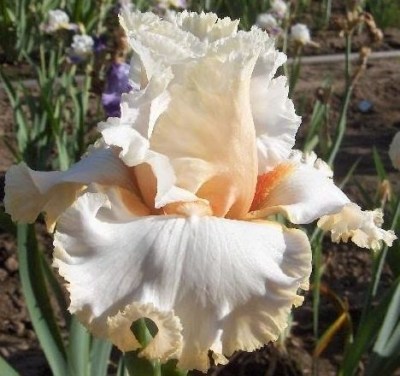 Standards eggshell white, slight buff-pink upward flush, buff gold flush at edge, lightly laced gold edge. Falls cream ground, medium gold haft, slight downward flush to narrow peachy buff edge. Beards bright tangerine red. Slight fragrance. Strong, vigorous and healthy growth.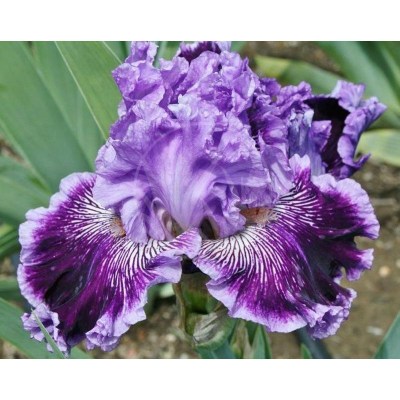 Standards lavender lilac, falls rich violet with lilac edge, heavily veined white pattern around beards, very ruffled. Beards bright tangerine. Pleasant sweet fragrance.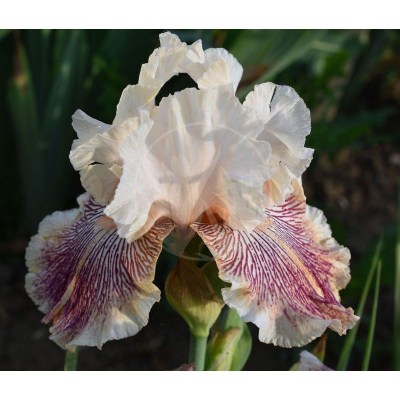 Standards white, with light apricot shadow, falls white, even violett or maroon veining near full length, diffusing at end with white band. Beards bright tangerine. Lovely sort.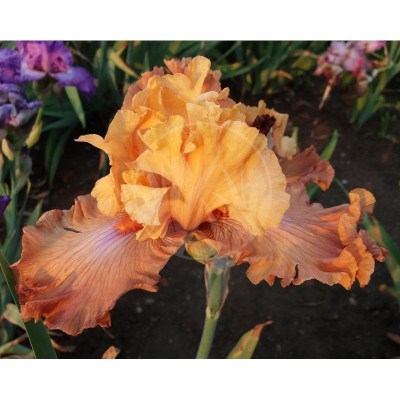 Standards coral orange, lightly ruffled, falls coral orange-sienna, large violet flash beside and below beard, ruffled and flared. Beards orange. Fine pleasant fragrance.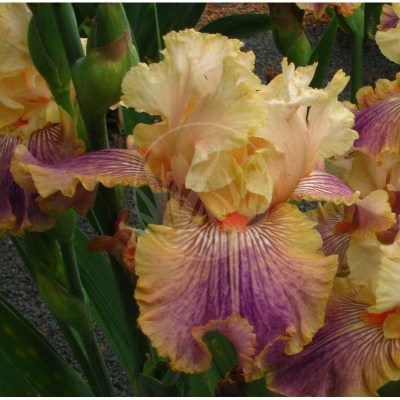 Standards warm white blushed metallic pink over center blending paler toward edge to darker tan-gold margins, fine darker pink veins, falls pale cream-white center, haft heavily veined tan brown to wide gold peach haft margin extending way down, medium metallic peach sheen over center veined and washed dark violet, ruffled. Beards bright orange. Pronounced sweet fragrance.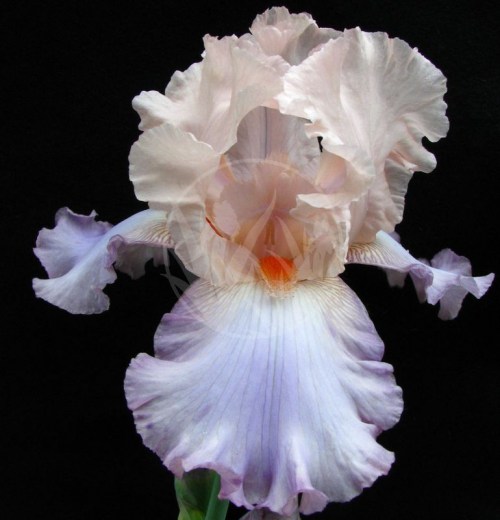 Apricot-pink standards nicely complement the ruffled blue-lavender or light violet falls. Beards orange. Highly valued sort, delicate flowers. Excellent growth and rich flowering. Fine fragrance.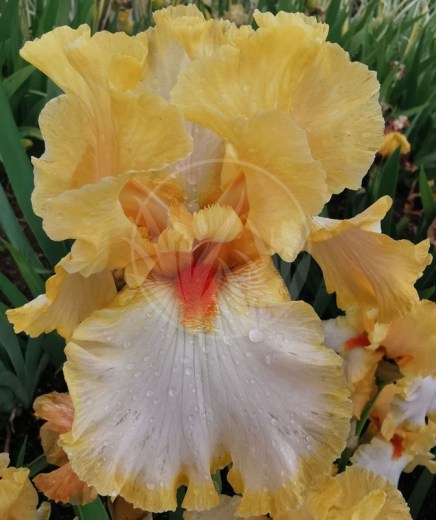 Standards apricot yellow, falls ruffled, creamy white with apricot yellow edge. Beards tangerine orange. Fine sort, good also in combination with high perennials.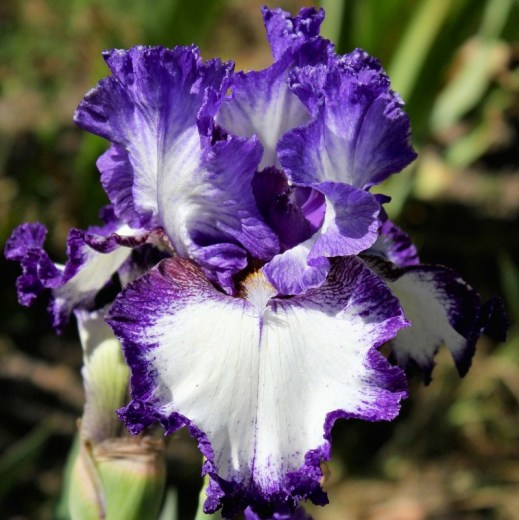 Standards white with broad blue violet edge, falls white with darker blue edge. Flowers very ruffled and laced. Beards blue white, light yellow in throat.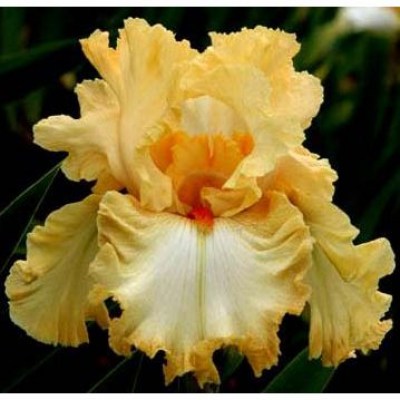 Standards peach orange, darker toward edge, falls white, light cinnamon peach plicata washed and dotted margins and base. Beards dark red-orange. Flowers heavily ruffled and laced, slight sweet fragrance. Strong and vigorous growth.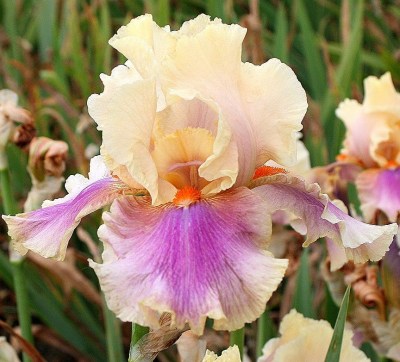 Standards light tan, falls clear rosy red, narrow tan border. Beards tangerine red.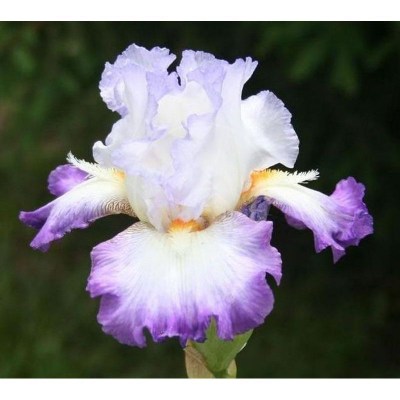 Standards white, lightly infused pale violet blue, falls white, suffusing to deep bright amethyst violet edge. White, horns-like beards tipped tangerine (SA Type). Flowers ruffled. Late flowering, very long and slim inflorescence. One of the most popular irises.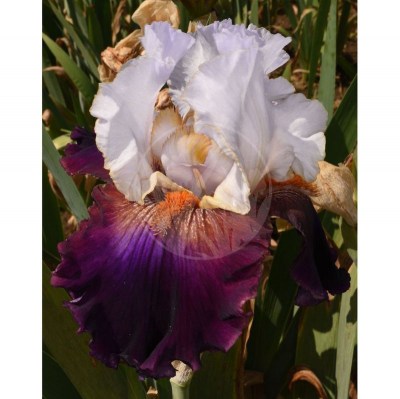 Standards blue white, ruffled, falls purple, shoulders blended with red, white stripes around red-orange beards. Healthy growth.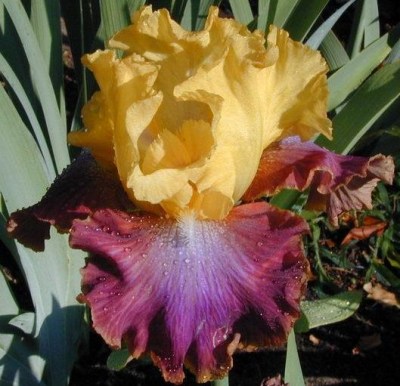 Standards light yellow, falls claret magenta with white blaze around beards. Beards yellow in throat, cream in middle, white at end. Flowers nicely ruffled.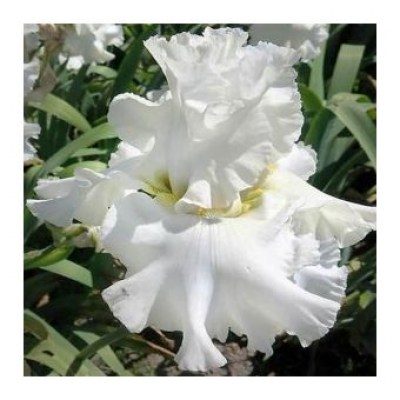 Standards icy white with a slight blue cast, falls icy white, bluish cast and faint blue center line on first day, then fades away, greenish yellow at the base. Beards white base tipped lemon. Wide, flared and ruffled flowers, slight sweet fragrance. Exceptional stem branching.