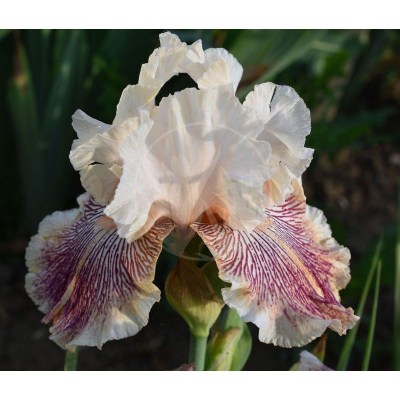 Standards white, with light apricot shadow, falls white, even violett or maroon veining near full length, diffusing at end with white band. Beards bright tangerine. Lovely sort.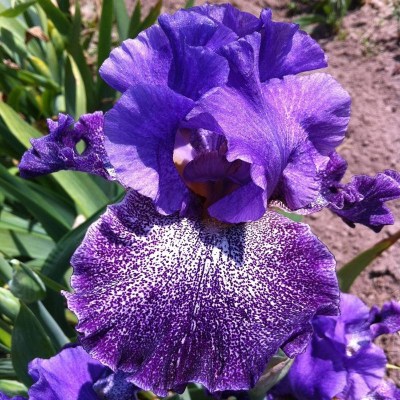 Standards violet, falls cold white ground heavily peppered violet, darker violet rim. Beards white, tipped golden yellow. Sweet, pleasant fragrance.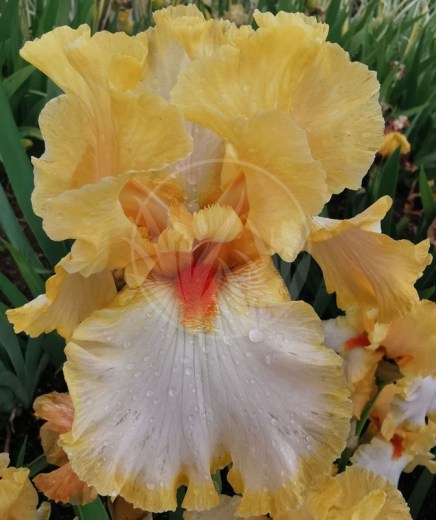 Standards apricot yellow, falls ruffled, creamy white with apricot yellow edge. Beards tangerine orange. Fine sort, good also in combination with high perennials.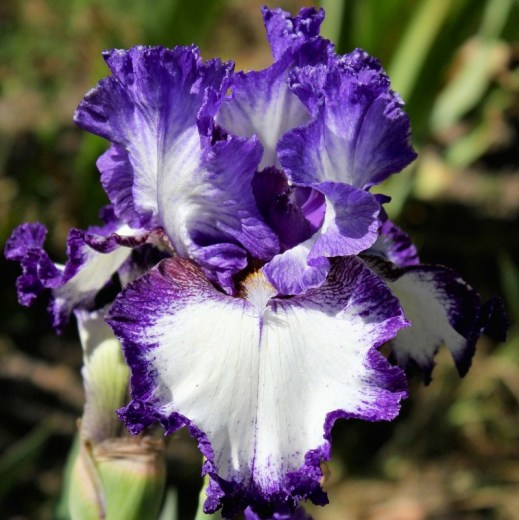 Standards white with broad blue violet edge, falls white with darker blue edge. Flowers very ruffled and laced. Beards blue white, light yellow in throat.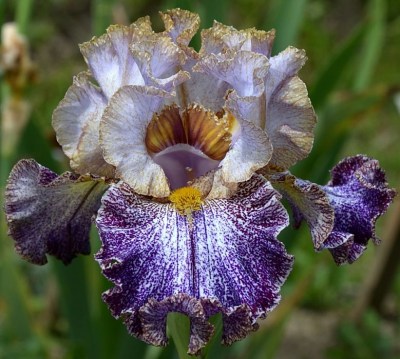 Standards chalky slate white, greenish gold flush up midrib, wide brassy gold blended band. Falls white, plicata washed mid purple overall becoming heavier toward edges, narrow plum brown band rimmed brass gold. Beards violet white base, tips old gold. Pronounced sweet fragrance.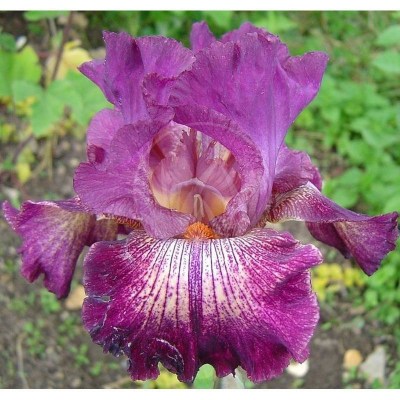 Soft cattleya pink self, standards beige pink lacy edge, style arms flecked beige and blue, falls lavender blue blaze in center, lacy. Beards tangerine orange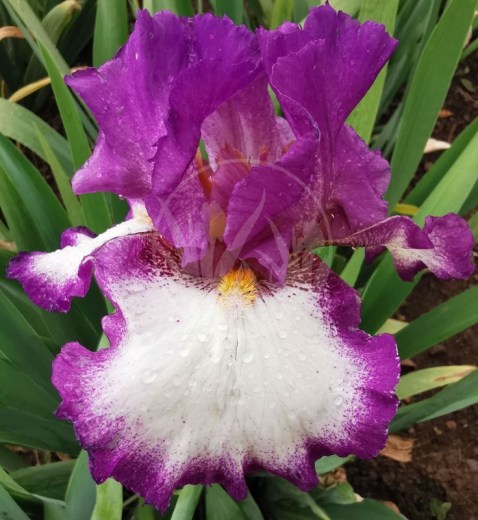 Standards violet-pink stitched on almost in´visible white ground, falls white ground stitched purple, more intensively on the edge. Beards ocher yellow. Flowers ruffled, very early bloom.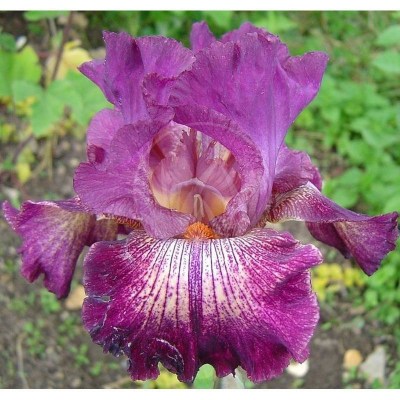 Standards magenta, falls salmon ground, edged and heavily stitched magenta. Beards tangerine orange. A brilliant plicata, beautiful sort.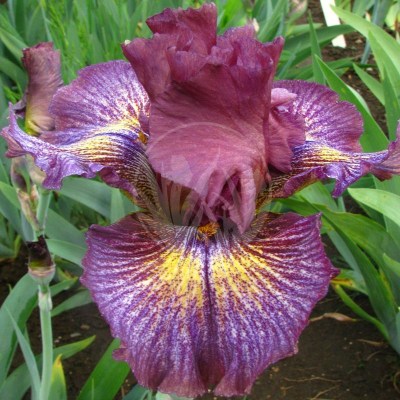 Standards blended silver, grey and lavender, falls cream ground heavily speckled yellow, brown and lavender on upper half, wide silvery lavender edge. Beards mustard yellow. Slight sweet fragrance.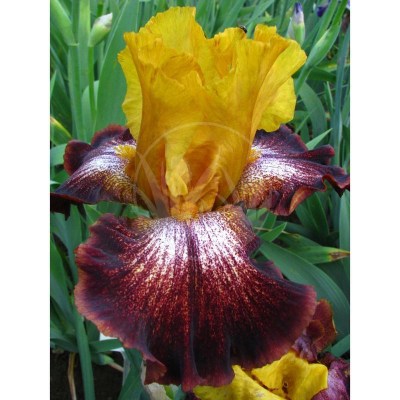 Standards deep gold, falls white ground with broad band of dark red brown plicata markings, deep gold in center, light brown edge. Beards deep yellow. Healthy growth.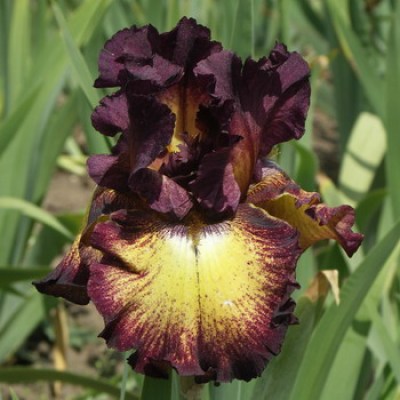 Standards black cherry, falls bright gold ground, maroon marginal band with dotting inside band, white area around sienna beards. Height 100 cm.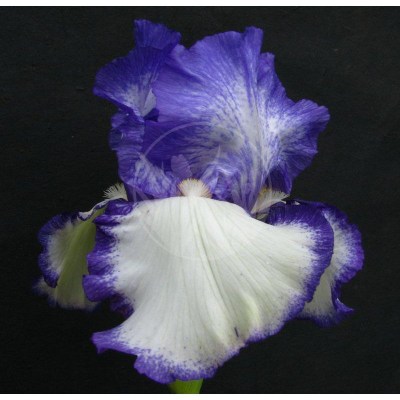 White ground, dark blue violet plicata edge. Beards white, tipped yellow. Big flowers, valued sort.
Standards white, yellow gilt rim, falls white ground, purple sanded pattern with yellow rim. Standards and falls nicely ruffled. Beards yellow and orange. Late flowering season.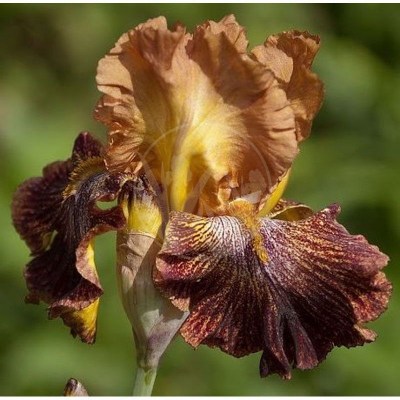 Standards light brown, dotted, lightly veined cocoa brown, falls yellow brown, heavily dotted lavender around mustard beard, heavily washed dark brown, edged lighter, very ruffled. Pronounced spicy fragrance. Unique colour combination, great sort from the Czech breeder.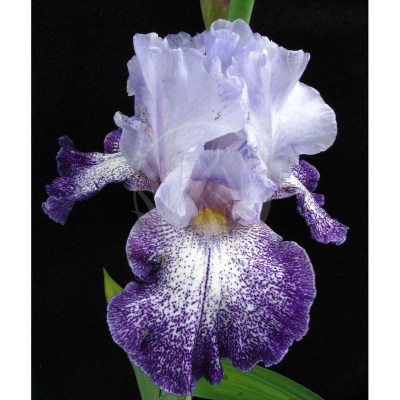 Standards blue to pallid violet, falls white ground, allover peppering of purple dots more concentrated at edge, lightly ruffled. Beards light blue tipped golden yellow. Precious sort.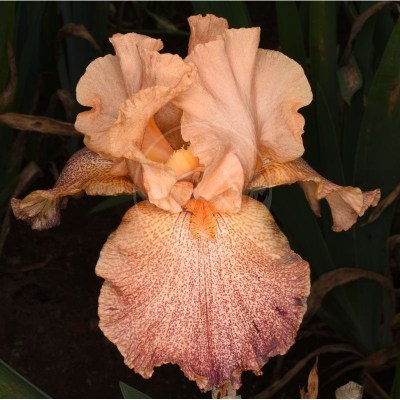 Standards deep tangerine, falls tannish orange ground with stippled red wine overlay, ruffled, flared. Beards light orange. Unique color combination, fine sort.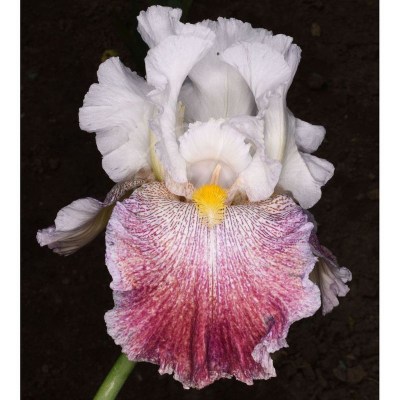 Standards warm white, pale gold rim, falls in upper half white, lined and sanded burgundy plicata, lower half medium gold sanded amber rust becoming heavier and darker toward edges, warm white edge, ruffled, lightly laced. Beards wide, yellow. Slight spicy fragrance.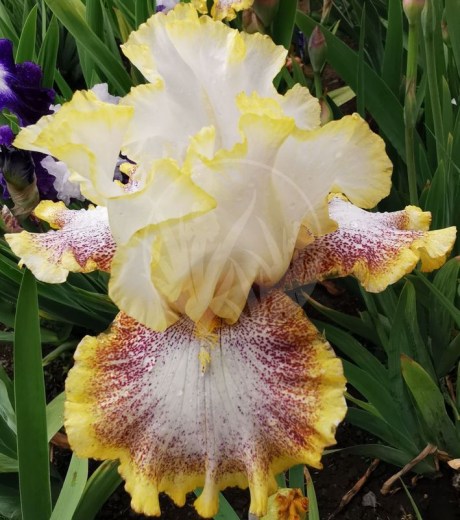 Standards white, gilt edge, falls white ground sanded and marked violet and magenta, wide yellow marginal band. Beards yellow. Flowers heavily ruffled. Baeatiful and amazing combination of colours.