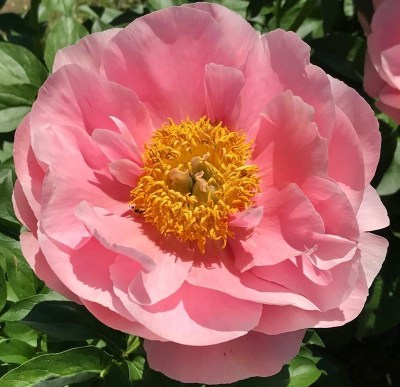 Flowers semi-double of a spectacular salmon-pink shade, mildly fragrant. Especially in sunlight, a mystical play of colours will unfold and absorbs all attention. Nice dark green, glossy foliage, compact bush. It is one of the most popular peonies. Rarely offered, always in high demand, unique and excellent peony!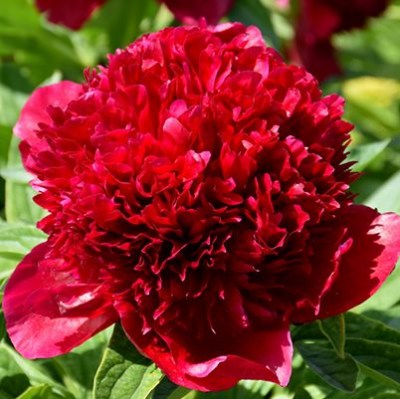 Sensational deep red double flowers. Flowers large (20 cm), perfectly formed. Mild sweet fragrance. The stems are strong and hold the large blooms erect. Excellent foliage. One of the best red coloured peonies, excellent for cutting.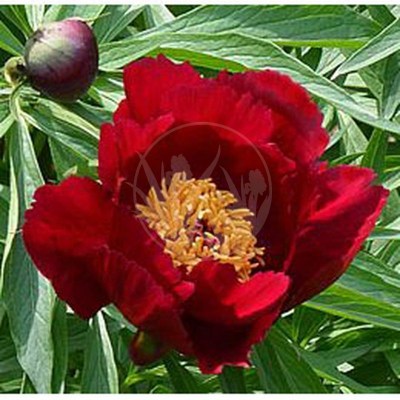 Flowers single to semi-double, deep red with contrasting yellow anthers. One of the earliest of all peonies to bloom. Low growth. Dissected leaf foliage (inherited from its parent P. tenuifolia (´Richard Carvel´ × P. tenuifolia) makes a very attractive plant even after the flowers have gone. Suitable as a cut-flower, blooms hold well when cut.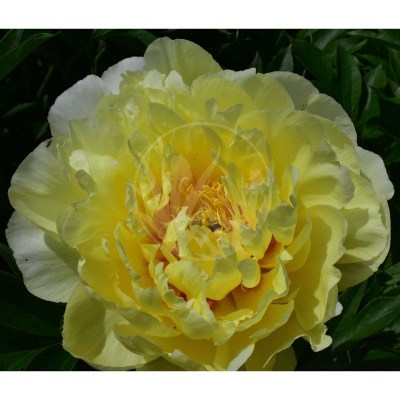 Full double flowers, bright yellow with red flares. Healthy and strong growth, 100% winter-hardy. Lovely lemon fragrance, giant flowers (18 cm)! Recommended for any garden, unique and most popular yellow sort.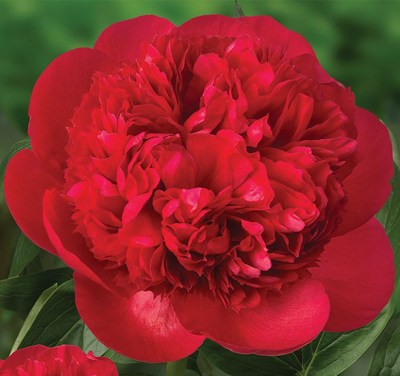 Full double, bomb-shaped flowers of bright carmine red color. Petals tightly packed to the center, which is pushed up in the maturing process resulting in huge and stunning bomb-shaped flowers. No sidebuds. Delicously scented flowers seldom seen amongst true red peony cultivars.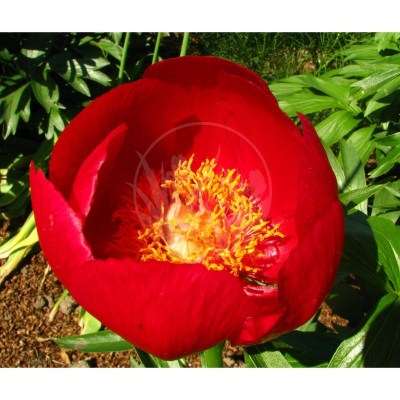 Flowers single, deep shining red , cup shaped, stamens yellow. Natural species distributed in south-eastern Europe. Very early flowering (May). Precious species suitable natural gardens and sunny places, especially good in combination with taller perennials. PAEONIA POTTED WE DO NOT SEND BY POST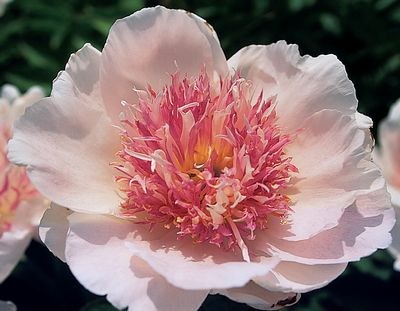 Light pink guard petals surrounding a spectacular center consisting of many staminodes of great contrasting colors in pink, white and purple shades. Fragrant flowers, fine plant habit, the spectacular flowering and the high vigour... a breathtaking peony.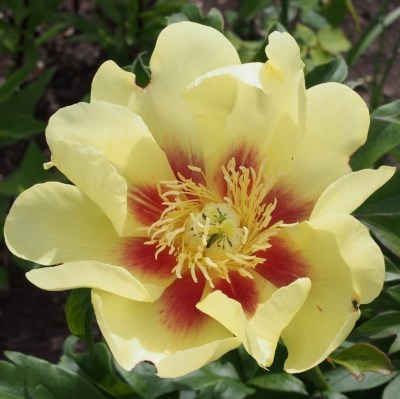 Gorgeous, very large lemon yellow single flowers with a tinge of red at the base are blooming for quite a long time. The foliage provides excellent autumn colour and interest. It has finely cut divided green foliage turning red in spring and autumn on strong stems.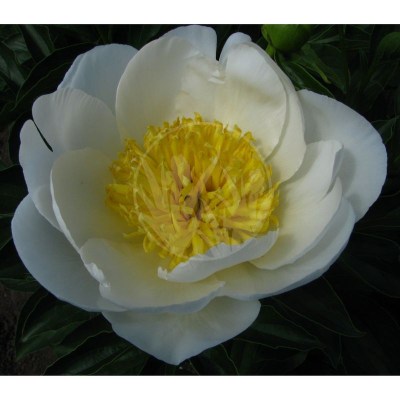 Flowers of japanese type, white, large petals surround a small center of deep yellow staminodes. Good bush habit, thick and strong stems make these sort especially good for cutting.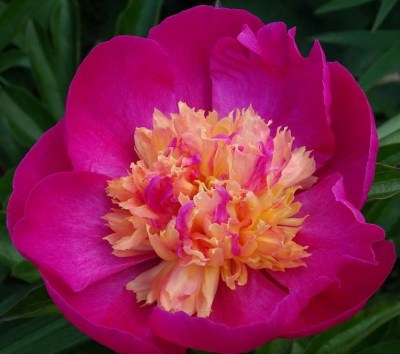 Large, japanese type flowers, pink outer guard petals around yellow staminoids. Flowers fragrant. Fine, vigorous peony...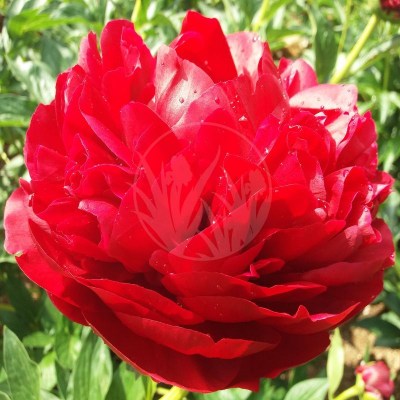 Full double, huge dinner plate size, rich cardinal red, excellent flowers. True red flower color comes from it being a Paeonia officinalis x lactifora hybrid. The last flowering peony of this hue in the season. Excellent grower, but slow of increase, sparse bush, heavy and tall stems. Highly prized as a cut-flower. Stunning presentation in the garden.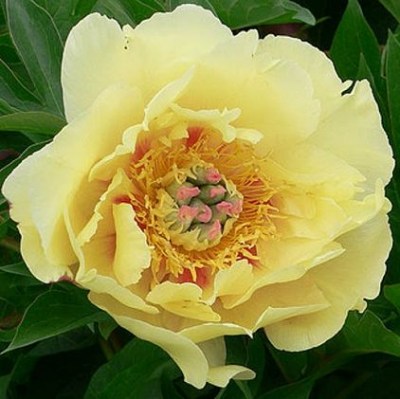 Flowers semi-double to nearly full double, yellow petals, reddish in the centre. Flowers well above the foliage, plants form broad low bush. Flowers fragrant, strong stems, height 70 cm. 100% winter-hardy. Recommended...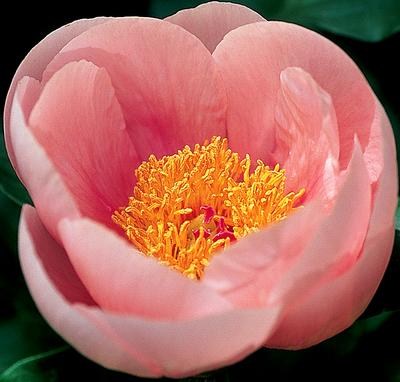 Soft salmon pink single flowers are saucer-shaped. Opening buds hold a true perfect cup-shape for a long time. Pink color shading to a deeper tone at the base of the petals, which surround the golden stamen centre. Perfectly formed, the flowers display a grand elegance and finesse. Flowers mildly fragrant. A lovely peony indeed...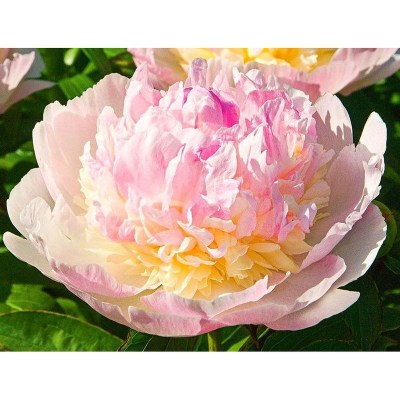 A well shaped creamy white double with raspberry pink over the top. Very pleasant sweet fragrance. Vigorous grower, medium tall with flexing stems. So nice combination of white and pink...a long time customer's favourite. PAEONIA POTTED WE DO NOT SEND BY POST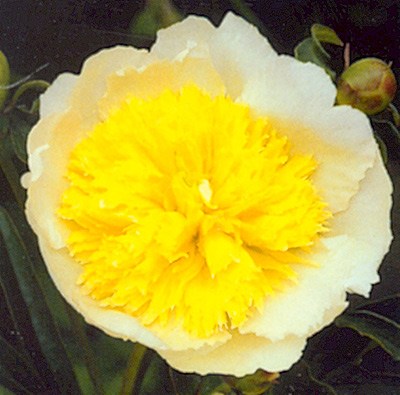 A flattish flower with creamy white, cupped guards, center composed of short, narrow petals of canary-yellow, becoming light with age. Fragrant flowers. Very floriferous peony, good grower.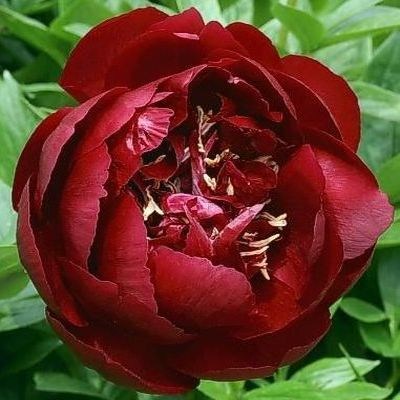 Extremely dark red (almost chocolate-red) semi-double, medium-sized flowers, petals are sprinkled with golden stamens. Striking maroon fall foliage. The very dark color, low plant height, compact habit makes this sort a very special.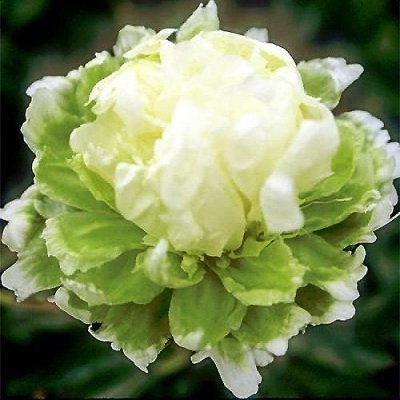 Snowy white topping of frilly petals and petaloides crown this semi-double flowered peony. Underneath lie unusual green guard petals. Flowers slightly fragrant. Very unusual, very rare...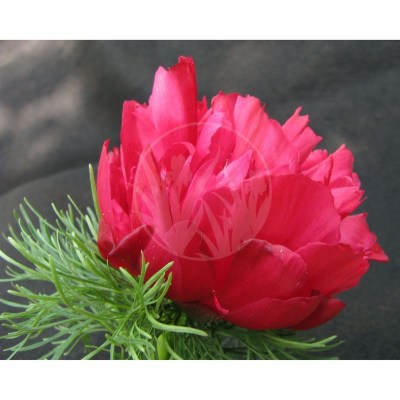 RARITY! Splendid, brilliant glowing crimson red double flower. Finely cut leaves, normal grower. Need very sunny position and well drained soil. Natural wild species, very rare.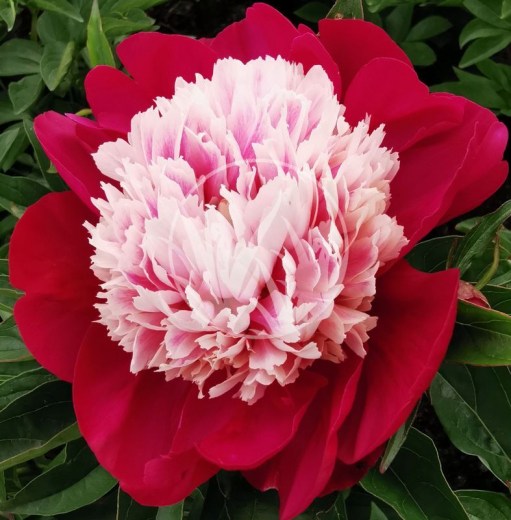 Japanese-type flowers with dark pink to raspberry red guard petals surrounding the full centre of ivory white staminodes. A mature plant forms a compact bush producing many long flowering flower stems. Most deliciously scenting flowers. Always in high demand...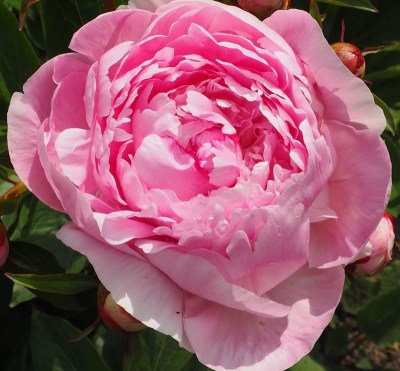 Large, double, globular shape, light lavender-pink flowers with a slightly darker center prominently flaked with red. Flowers very fragrant. Excellent grower, strong stems are suitable to cutting. One of the very few beautiful varieties in this color, simply excellent!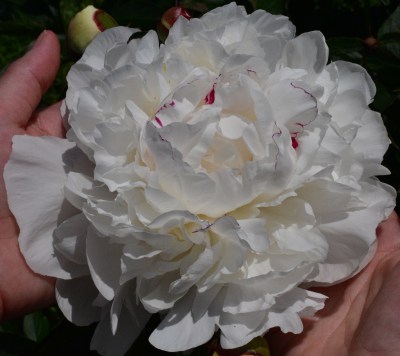 Flowers large, globular, double, pure white with a spot of red on a few central petals. Flowers with delightful fragrance, very floriferous sort. Stems strong, foliage large, dark green.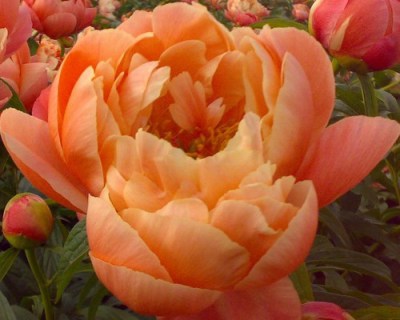 Orange-coral buds open to large semi-double, coral-peach, cup-shaped flowers. Exotic deep coral fades to a softer color on opening. Flowers fragrant. Vigorous grower, thick stems. Sort received many awards, because of unique flower color. Excellent as a cut-flower.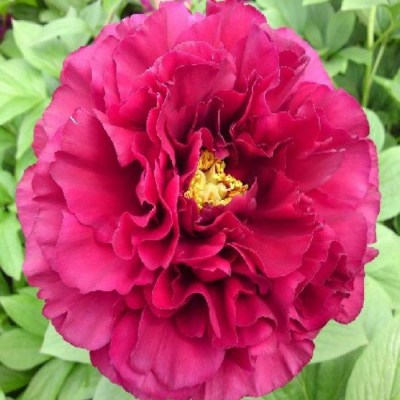 Flowers large, dark velvet red, double, with heavy substance of the petals. Highly prized, in our opinion, this is the best in its class. Flowers lightly fragrant. Strong stems and healthy, dark green foliage. Excellent as a cut-flower. American Peony Society Gold Medal Winner (1997), Award of Landscape Merit Winner (2009). Simply...one of the best!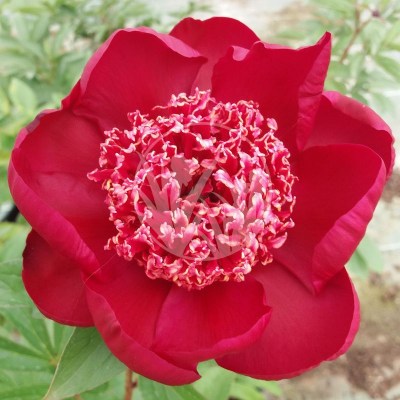 Flowers dark red, simple - japanese type, staminoides sharply incurved, flushed and edged yellow. Dark red stems and dark green leaves. Compact and attractive plant habit, masssive flowering, beauty of the flower color contrast... Very popular sort.