Bareroot Herbaceous Peonies
We send strong roots of flowering size with a minimum of 3-5 buds. Orders all year round, peonies are sent bareroot in the autumn (October, November, December).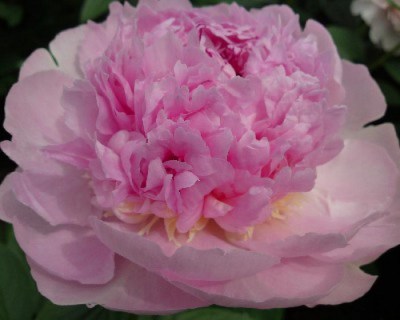 Flowers double, soft cameo-pink with red freckles on the top of the petals, double row of pink guard petals, big full bloom. Normal grower, strong stems, big leaves, disease resistant. Excellent sort, giant flowers (15...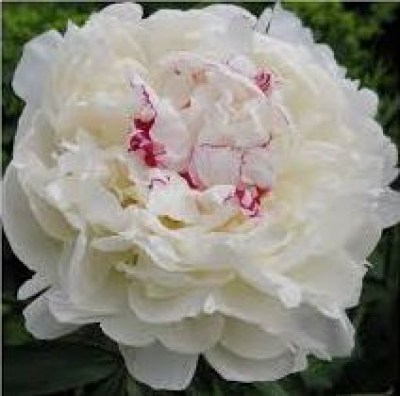 Flowers large, globular, double, blush-white of waxy texture with a faint pink center and very narrow crimson edges to a few petals. Compact, generally incurved flower with the tips of the outer petals recurved from its...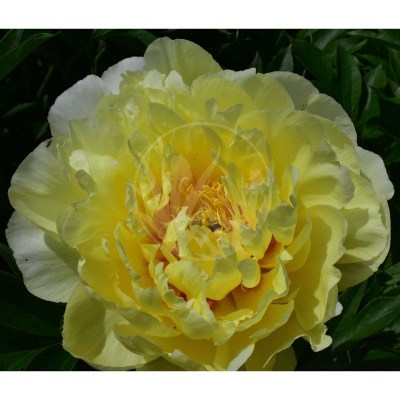 Full double flowers, bright yellow with red flares. Healthy and strong growth, 100% winter-hardy. Lovely lemon fragrance, giant flowers (18 cm)! Recommended for any garden, unique and most popular yellow sort.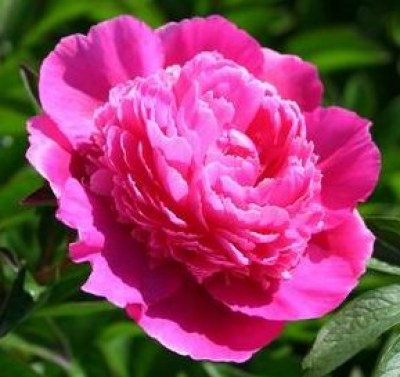 Bright pink japanese-type flowers with wonderful arrangement. Staminoides in the center of the flower are tipped with red. A real eye-catcher, flowers slightly fragrant. A fine peony with strong erect stems.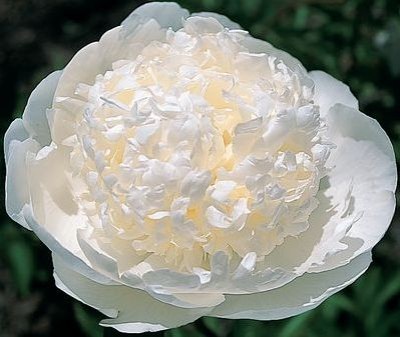 Perfect double white, large flowers (Bomb type), strong stems. Light fragrance, excellent cut flower. Most desirable florist's choice, unique.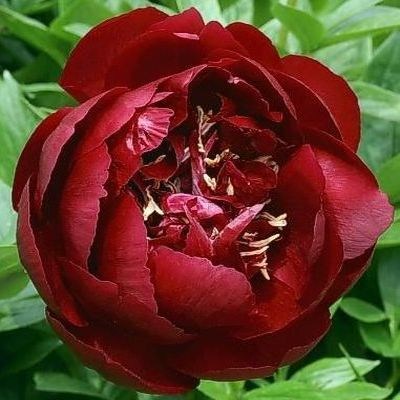 Extremely dark red (almost chocolate-red) semi-double, medium-sized flowers, petals are sprinkled with golden stamens. Striking maroon fall foliage. The very dark color, low plant height, compact habit makes this sort a...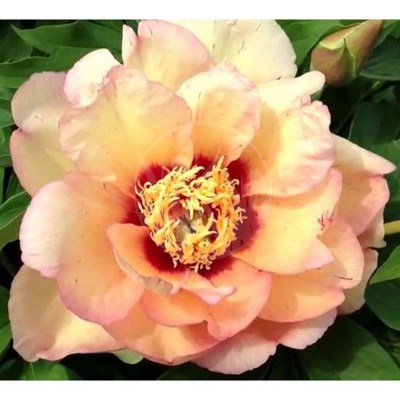 Flowers semi-double, apricot cream with maroon flares and picotee edges. At the opening, the flower has the shape of a rose. Flowers slightly fragrant. Nice foliage, good grower, 100% winter-hardy. Among peonies very...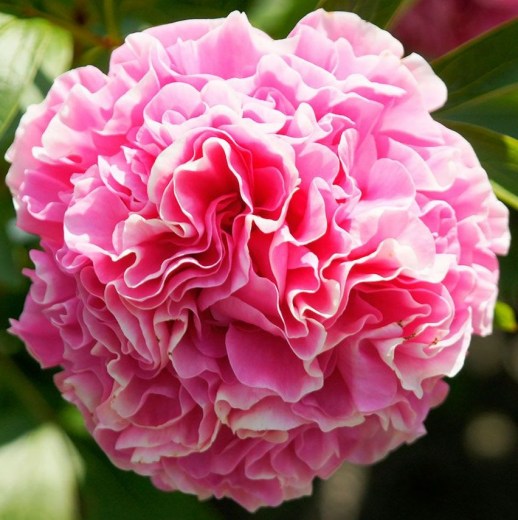 Pretty double vivid rose, very bright flowers. Petals of uniform size give a carnation-like appearance. Wonderful spicy fragrance. One flower per stem, excellent for cutting. Very popular, but rare, seldom offered...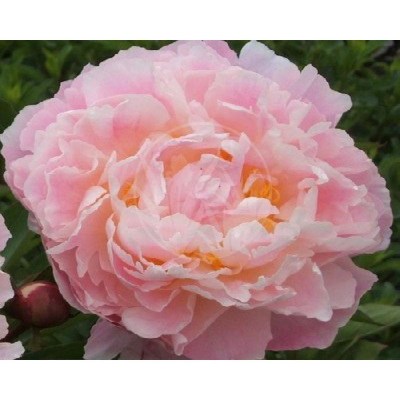 Beautiful double pink flowers blended through white with yellow glow from center. When the flowers mature the yellow stamens become more visible and the petals nearly turn to white. Very fragrant. An excellent cut...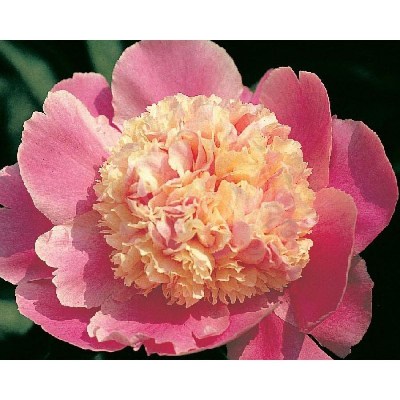 Flower Japanese form, sassy raspberry pink with large vanilla ice cream scoop center. Flowers pleasantly fragrant. Vigorous plant habit and lush foliage, one of the best!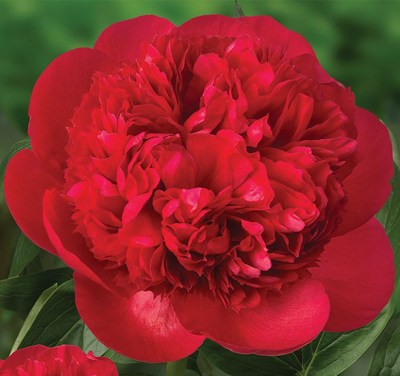 Full double, bomb-shaped flowers of bright carmine red color. Petals tightly packed to the center, which is pushed up in the maturing process resulting in huge and stunning bomb-shaped flowers. No sidebuds. Delicously...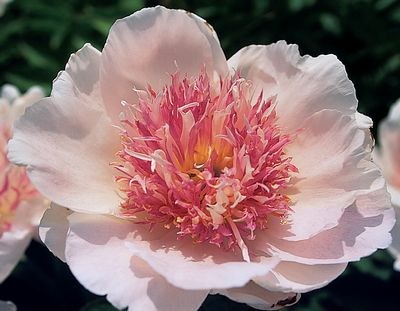 Light pink guard petals surrounding a spectacular center consisting of many staminodes of great contrasting colors in pink, white and purple shades. Fragrant flowers, fine plant habit, the spectacular flowering and the...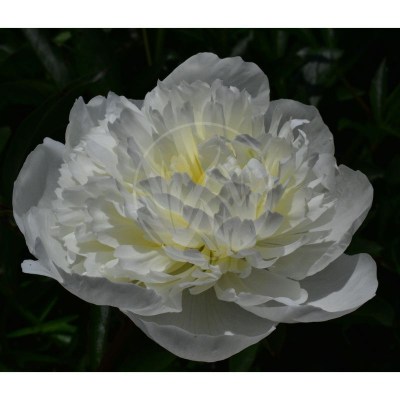 Flowers double, cupped, creamy white, very pleasant, strong sweet fragrance. Very floriferous. Many strong stems, excellent foliage. Old, but still very very popular sort, also good as cut-flower. Its fragrance is so...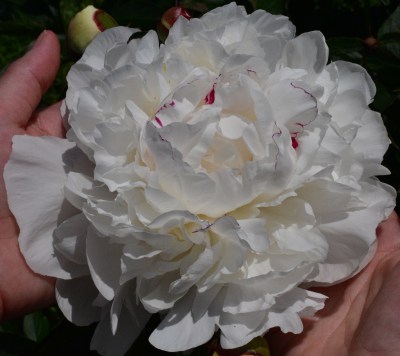 Flowers large, globular, double, pure white with a spot of red on a few central petals. Flowers with delightful fragrance, very floriferous sort. Stems strong, foliage large, dark green.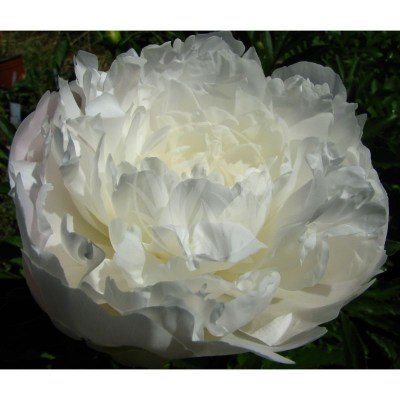 Flowers double, blush white, with a scarlet suffusion deepening to center, opened flowers are of rose shape, very wide and narrow petals intermingled. Very fragrant! Strong stems, very vigorous and floriferous.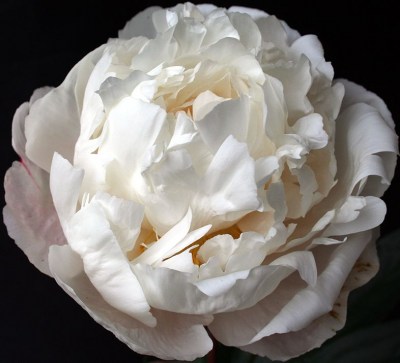 Full double white flowers with the occasional yellow stamen visible in the center of the large blooms. 'Gardenia' is named after the genus to which the flower form is very comparable to. Many sidebuds, providing an...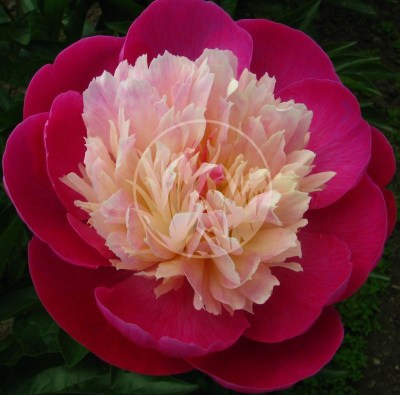 Japanese form flowers to 15 cm wide, rose or cherry outer petals surrounds a large centre of cream petaloids, edged by pink. Very fragrant and long lasting flowers. Well known, outstanding variety.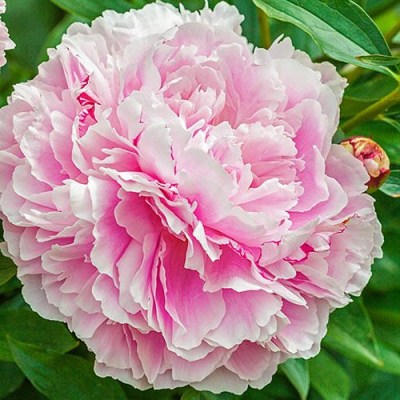 Double, large flower, light pink to blush with white central petals is surrounded by smaller saucer-shaped side flowers so each strong stem makes a bouquet. Very floriferous, flowers strongly scented. Vigorous and...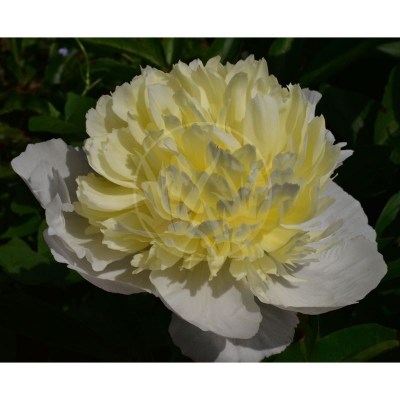 Cream-white or pale-lemon flowers double when opened, later fading to white, yellow centre. Flowers very fragrant. Dark green foliage, good grower, strong stems, very floriferous.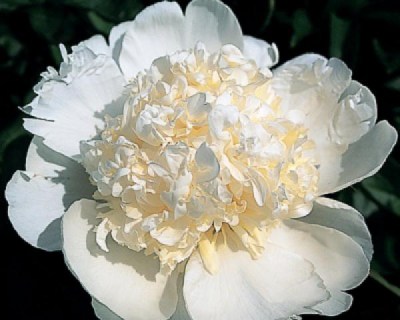 White double bomb with upward curving guard petals. Ball center is formed by white petals with a yellow cast emanating from its base. Dark green foliage, short growth habit. Flowers pleasantly fragrant.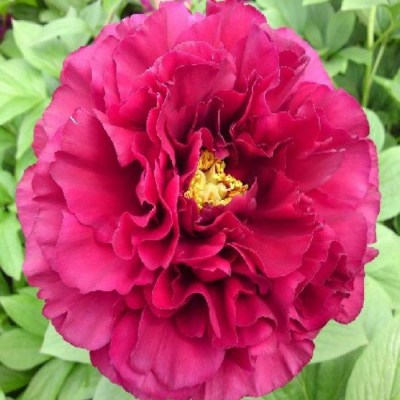 Flowers large, dark velvet red, double, with heavy substance of the petals. Highly prized, in our opinion, this is the best in its class. Flowers lightly fragrant. Strong stems and healthy, dark green foliage. Excellent...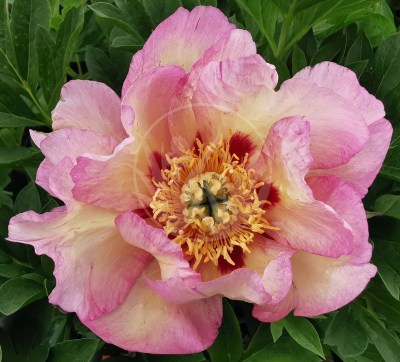 Huge semi-double white flowers with deep lavender to purple flares. The contrast between the purple color of the center of this peony and the pure white petals is magnificent – it is reminiscent of the type found on the...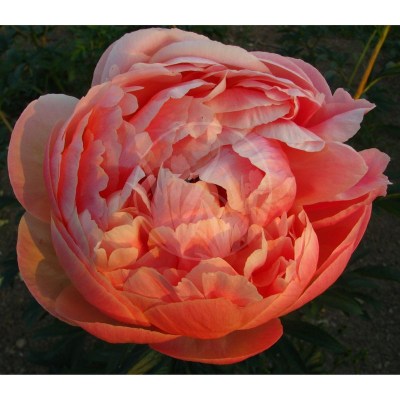 Large, semi-double light salmon-pink (coral) witk relatively few dark yellow stamens in center. Fast growing sort with many thick strong stems, very early flowering, good for cutting, fragrant.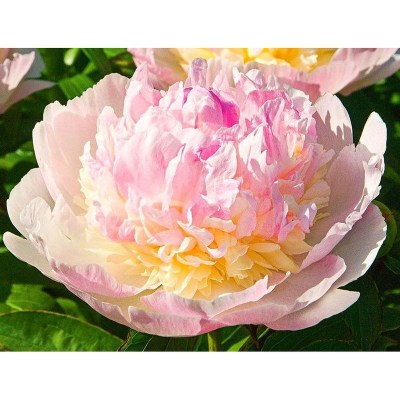 A well shaped creamy white double with raspberry pink over the top. Very pleasant sweet fragrance. Vigorous grower, medium tall with flexing stems. So nice combination of white and pink...a long time customer's...