Bareroot Herbaceous Peonies
We send strong roots of flowering size with a minimum of 3-5 buds. Orders all year round, peonies are sent bareroot in the autumn (October, November, December).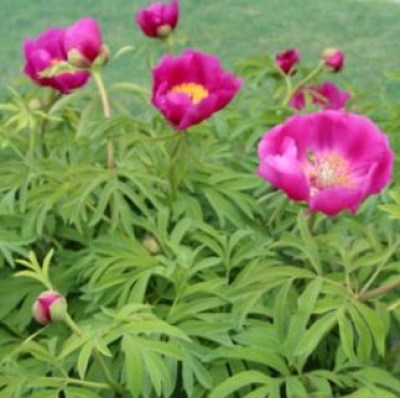 Natural wild species with a wide distribution, Turkey and Greece being the main centres. Flowers single, purple red with yellow stamens in the centre. Foliage is blueish or greyish green (matte), deeply cut and consists of relatively narrow segments. Very vigorous and floriferous, suitable for growing in our climate.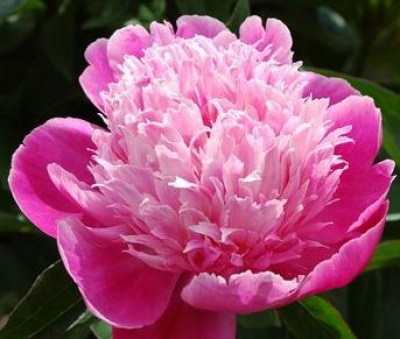 A large light purple japanese form flowers, striking color contrast of darker guard petals surrounding a mound of smaller, lighter center. Strong, tall grower with heavy flowers. Interesting novelty in the world of peonies.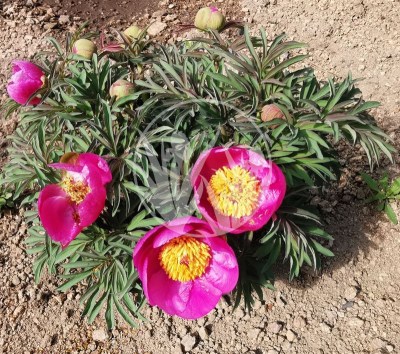 Single lavender pink blooms on compact bushes with gray-green foliage. It belongs to the "Rock Garden Peonies" group. Rock-garden varieties are named for their short heights, suitable for rockeries and smaller gardens or the front of the perennial border. Their foliage, texture and blossoms sized in perfect proportion to their smaller stature. It blooms very early.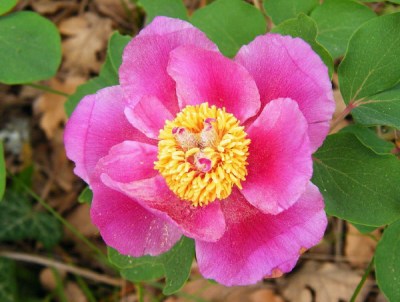 Natural wild species, flowers single, pink to purple red with yellow stamens and carpels covered by pink felty hairs. Fine, ornamental, rounded leaves. Only rarely cultivated peony, suitable rather to semishady places.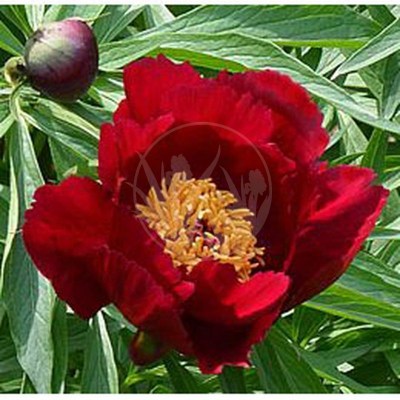 Flowers single to semi-double, deep red with contrasting yellow anthers. One of the earliest of all peonies to bloom. Low growth. Dissected leaf foliage (inherited from its parent P. tenuifolia (´Richard Carvel´ × P. tenuifolia) makes a very attractive plant even after the flowers have gone. Suitable as a cut-flower, blooms hold well when cut.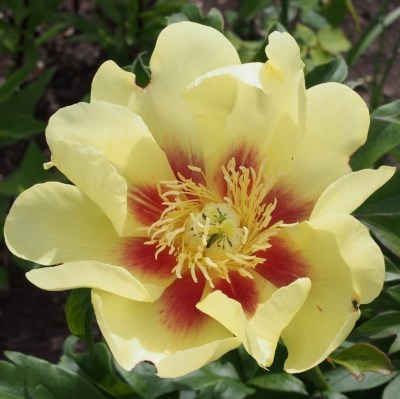 Gorgeous, very large lemon yellow single flowers with a tinge of red at the base are blooming for quite a long time. The foliage provides excellent autumn colour and interest. It has finely cut divided green foliage turning red in spring and autumn on strong stems.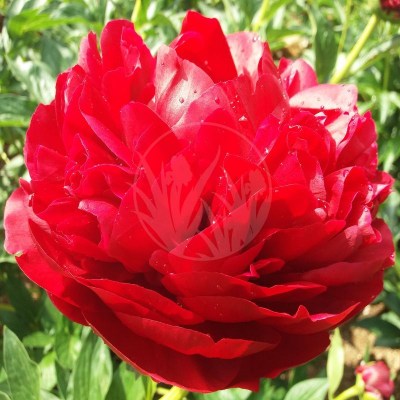 Full double, huge dinner plate size, rich cardinal red, excellent flowers. True red flower color comes from it being a Paeonia officinalis x lactifora hybrid. The last flowering peony of this hue in the season. Excellent grower, but slow of increase, sparse bush, heavy and tall stems. Highly prized as a cut-flower. Stunning presentation in the garden.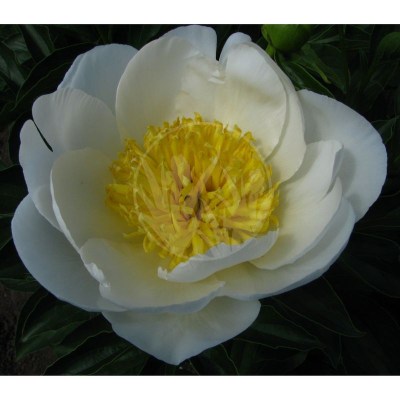 Flowers of japanese type, white, large petals surround a small center of deep yellow staminodes. Good bush habit, thick and strong stems make these sort especially good for cutting.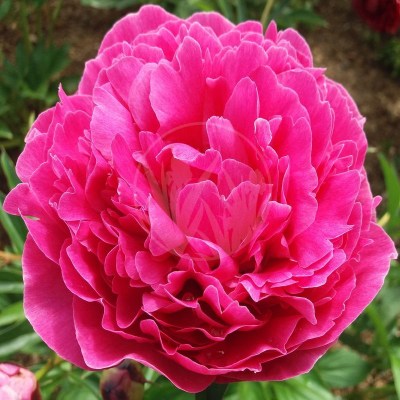 Double, rosy red to deep pink flowers. A very showy flowers, freely blooming sort. Normal grower, thick strong woody stems makes Kansas especially good for cutting.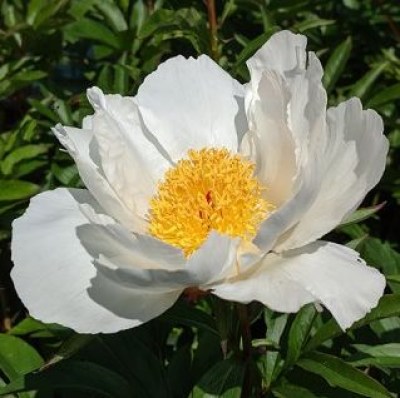 Flowers single, very large, white with two rows of very long, wide, overlapping petals, contrasting broad ring of golden yellow stamens. Tall, very floriferous, strong stems.Perhaps the finest of all single white varieties... available size 2/3 eye, root volume 1 liter.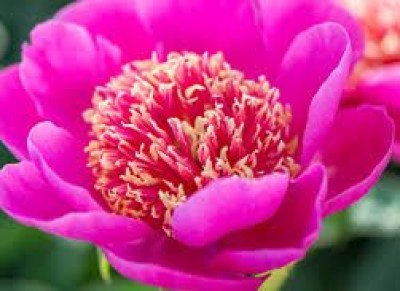 Flowers deep pink, center petaloids cream and pink, etched in peach, Japanese form, with many side buds. Flowers are held above the foliage, great cutflower. Vigorous peony with excellent foliage.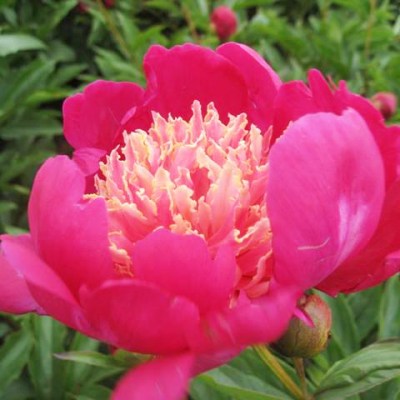 Flowers of japanese type, red with rose and yellow center, very floriferous. Excellent grower, prodigious flower production, long lived and dependable peony, suitable to any garden.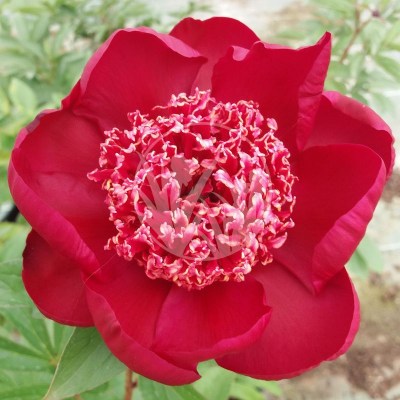 Flowers dark red, simple - japanese type, staminoides sharply incurved, flushed and edged yellow. Dark red stems and dark green leaves. Compact and attractive plant habit, masssive flowering, beauty of the flower color contrast... Very popular sort.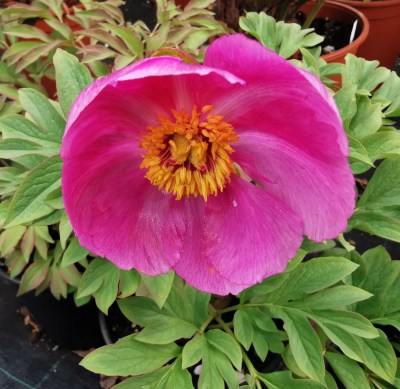 Species peony, height 40-50 cm. Flowers 10 cm in diameter, simple, pink, early flowering. Stems furry when young, later bald. Peony for sunny or semi-shady places, suitable for natural gardens.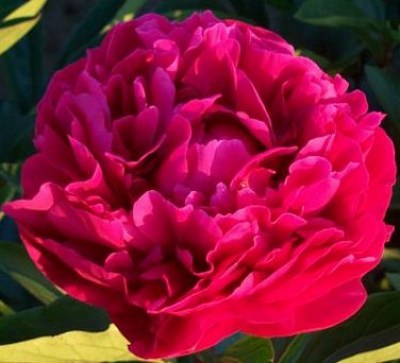 Large, double, velvety ruby-red flowers, beautifully formed. Graceful foliage, strong stems, excellent plant habit. A splendid peony….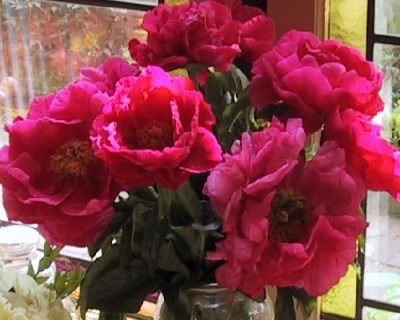 Deep pink semi-double waxy textured, softly glowing blooms. Excellent plant habit, strong stems and dark green foliage. Very cute flowers, healthy growth.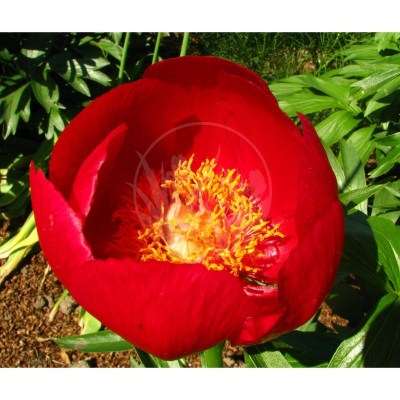 Flowers single, deep shining red , cup shaped, stamens yellow. Natural species distributed in south-eastern Europe. Very early flowering (May). Precious species suitable natural gardens and sunny places, especially good in combination with taller perennials. PAEONIA POTTED WE DO NOT SEND BY POST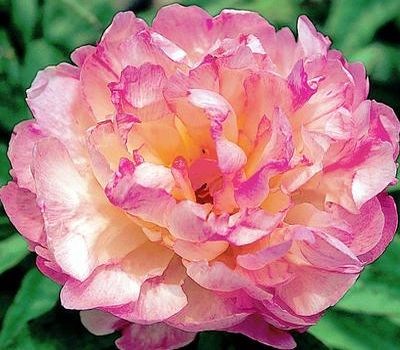 Large, semi-double flower made of a blend of rose and creamy-yellow. The lower part of each petal is creamy-yellow but the upper part is of a vivid pink with raspberry streaking and lightly crumpled margins. Almost delicate picotee effect! Flowers are held upright on strong stems. Elegant peony, unique pattern of the flowers, a favorite for cut flower bouquets.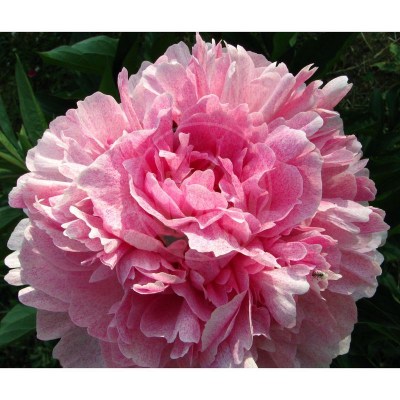 Large double flowers, light pink heavily dotted dark pink. Unique sort with perfectly round finely dotted flowers. Healthy growth, nice foliage, simply a jewel among peonies! Till now very rare new sort, beautiful, recommended!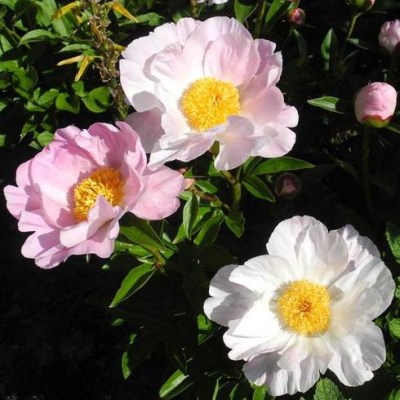 Flowers single, opens pink and fades marble and then white. Delightful flower, heavy amount of bloom covering entire plant, height 70 cm. Root size 2/3 eye.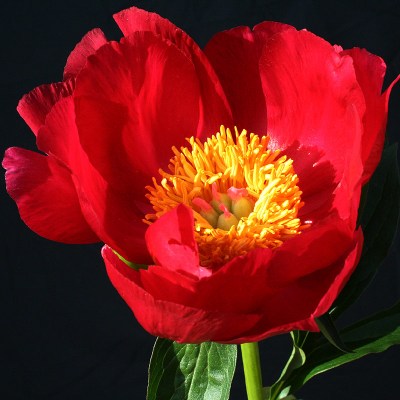 Large, fiery red single flowers and contrasting golden stamens on strong stems come from breeding P. lactiflora x P. officinalis. Superb, rich green foliage on a very vigorous, easy to grow plant. If you have a full sun garden, you need this peony for sure…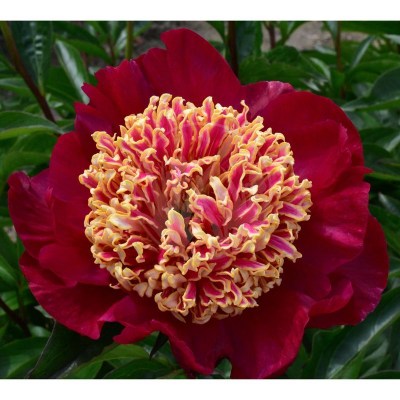 Large bright red petals surround a large center of yellow edged staminodes streaked with red. A very appealing color effect, color holds well. Vigourous and floriferous sort, heat and wind resistant. Great for cutting.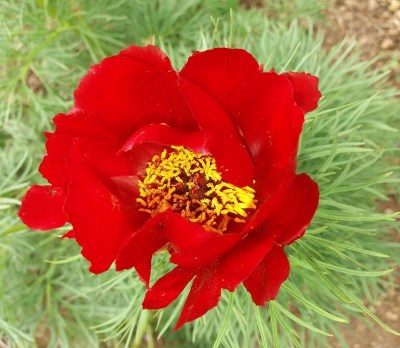 Finely cut leaves, single bright red petals and golden yellow center. Height 30-40 cm. Need very sunny position and well drained soil, excellent for rock gardens. Natural wild species, very rare. Root size 3/5 eye.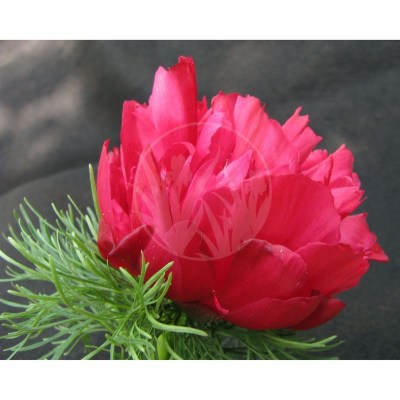 RARITY! Splendid, brilliant glowing crimson red double flower. Finely cut leaves, normal grower. Need very sunny position and well drained soil. Natural wild species, very rare.