Bareroot Herbaceous Peonies
We send strong roots of flowering size with a minimum of 3-5 buds. Orders all year round, peonies are sent bareroot in the autumn (October, November, December).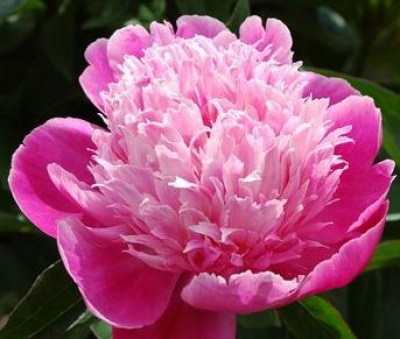 A large light purple japanese form flowers, striking color contrast of darker guard petals surrounding a mound of smaller, lighter center. Strong, tall grower with heavy flowers. Interesting novelty in the world of...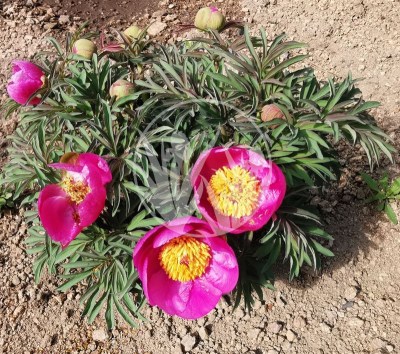 Single lavender pink blooms on compact bushes with gray-green foliage. It belongs to the "Rock Garden Peonies" group. Rock-garden varieties are named for their short heights, suitable for rockeries and smaller gardens...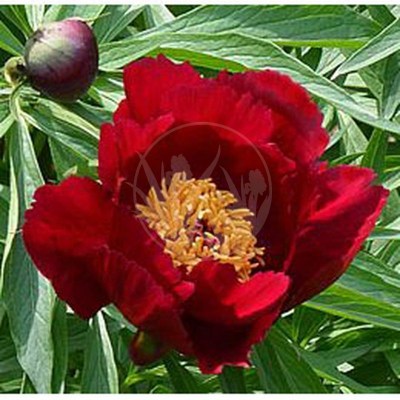 Flowers single to semi-double, deep red with contrasting yellow anthers. One of the earliest of all peonies to bloom. Low growth. Dissected leaf foliage (inherited from its parent P. tenuifolia (´Richard Carvel´ × P....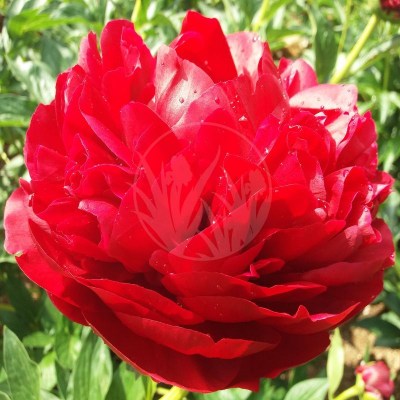 Full double, huge dinner plate size, rich cardinal red, excellent flowers. True red flower color comes from it being a Paeonia officinalis x lactifora hybrid. The last flowering peony of this hue in the season....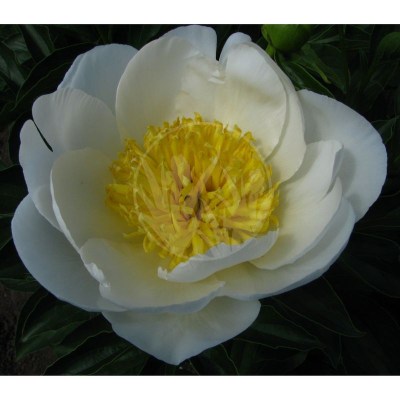 Flowers of japanese type, white, large petals surround a small center of deep yellow staminodes. Good bush habit, thick and strong stems make these sort especially good for cutting.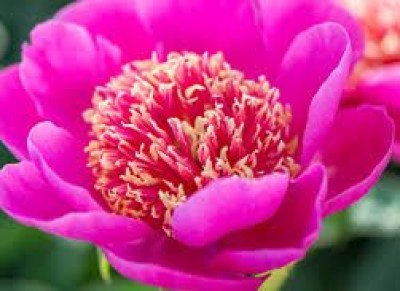 Flowers deep pink, center petaloids cream and pink, etched in peach, Japanese form, with many side buds. Flowers are held above the foliage, great cutflower. Vigorous peony with excellent foliage.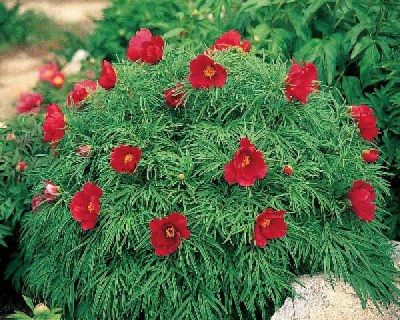 Single red blooms on compact, low ( 40 cm) bushes with finely cut foliage. It belongs to the "Rock Garden Peonies", for their short heights, suitable for the rock gardens or in front positions in your garden. It blooms...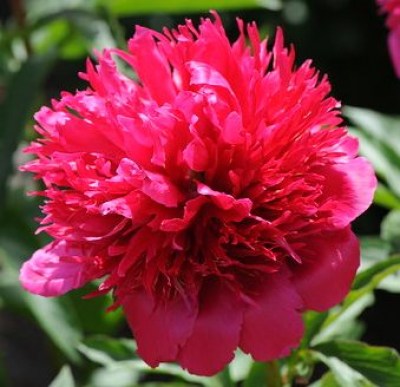 Warm red, anemone to full double flowers. Very floriferous variety with many thick strong stems. Early flowering time, long lasting cut flowers. Height 80 cm.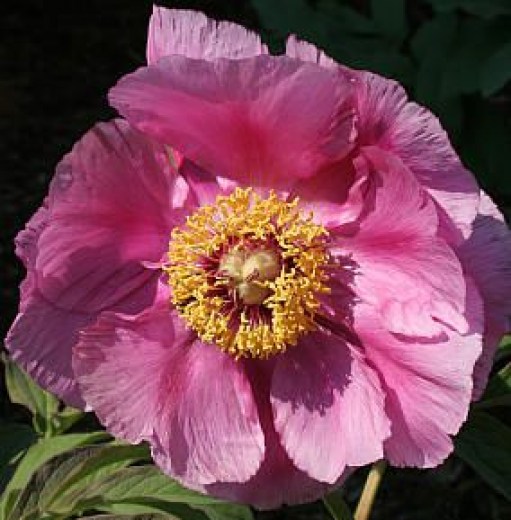 Flowers somewhat cup-shaped, simple, 7 cm across, soft pink. P. mollis belongs to the officinalis group and stands somewhat near P.humilis var. villosa. but origin is unknown. Stems 30-45 cm tall with blue-green...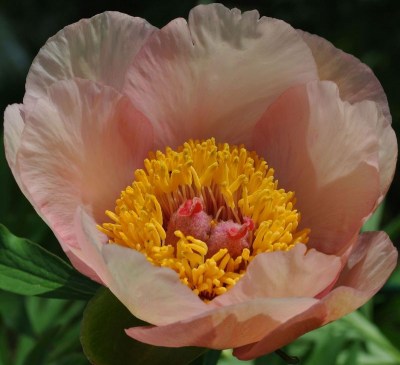 Single flowers, shell pink to soft salmon glazed in silver, fat golden yellow stamens surrounding purple stigmas complete a sensational display. Noticeable fragrance. It is a hybrid created from P. mlokosewitschi x P....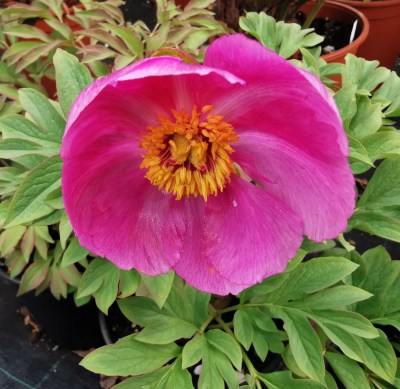 Species peony, height 40-50 cm. Flowers 10 cm in diameter, simple, pink, early flowering. Stems furry when young, later bald. Peony for sunny or semi-shady places, suitable for natural gardens.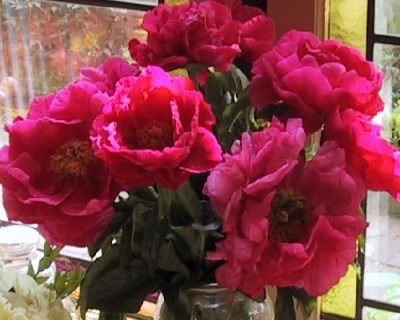 Deep pink semi-double waxy textured, softly glowing blooms. Excellent plant habit, strong stems and dark green foliage. Very cute flowers, healthy growth.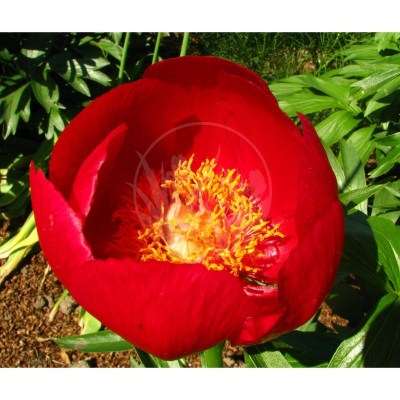 Flowers single, deep shining red , cup shaped, stamens yellow. Natural species distributed in south-eastern Europe. Very early flowering (May). Precious species suitable natural gardens and sunny places, especially good...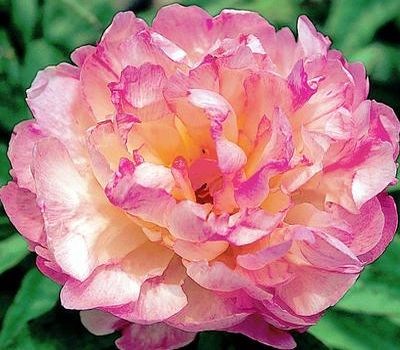 Large, semi-double flower made of a blend of rose and creamy-yellow. The lower part of each petal is creamy-yellow but the upper part is of a vivid pink with raspberry streaking and lightly crumpled margins. Almost...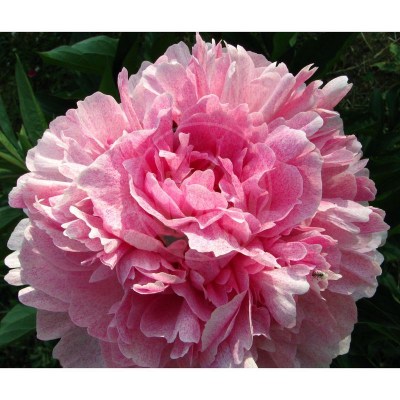 Large double flowers, light pink heavily dotted dark pink. Unique sort with perfectly round finely dotted flowers. Healthy growth, nice foliage, simply a jewel among peonies! Till now very rare new sort, beautiful,...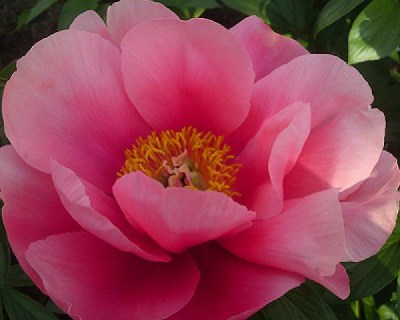 Flowers semi-double, large, intense salmon pink. Three rows of petals surround golden-yellow stamens. Flowers cup-shaped, fragrant. Very romantic appearance. Height 85 cm, strong stems, light green leaves. Charming,...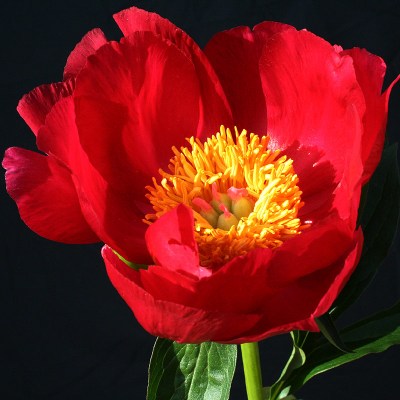 Large, fiery red single flowers and contrasting golden stamens on strong stems come from breeding P. lactiflora x P. officinalis. Superb, rich green foliage on a very vigorous, easy to grow plant. If you have a full sun...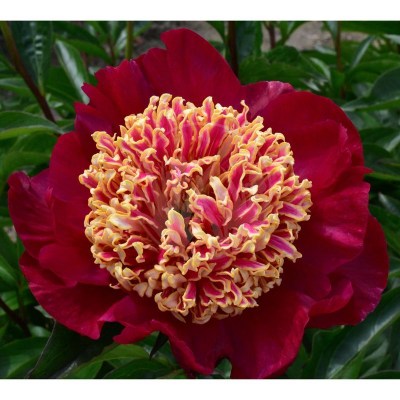 Large bright red petals surround a large center of yellow edged staminodes streaked with red. A very appealing color effect, color holds well. Vigourous and floriferous sort, heat and wind resistant. Great for cutting....