Bareroot Herbaceous Peonies
We send strong roots of flowering size with a minimum of 3-5 buds. Orders all year round, peonies are sent bareroot in the autumn (October, November, December).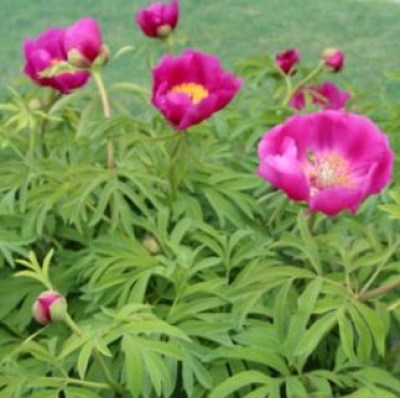 Natural wild species with a wide distribution, Turkey and Greece being the main centres. Flowers single, purple red with yellow stamens in the centre. Foliage is blueish or greyish green (matte), deeply cut and consists of relatively narrow segments. Very vigorous and floriferous, suitable for growing in our climate.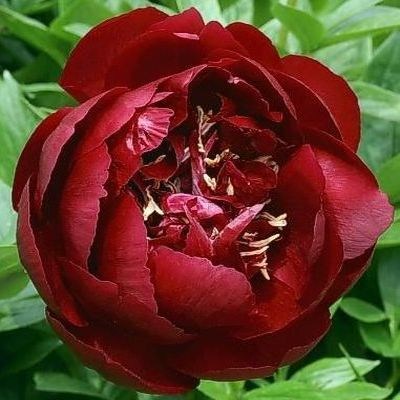 Extremely dark red (almost chocolate-red) semi-double, medium-sized flowers, petals are sprinkled with golden stamens. Striking maroon fall foliage. The very dark color, low plant height, compact habit makes this sort a very special.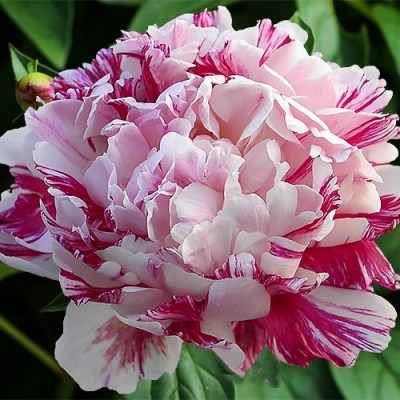 Beautiful double flowers white with red stripes in pleasing combination. Pleasant mild fragrance. A vigorous plant, long strong stems, fine as a cut flower.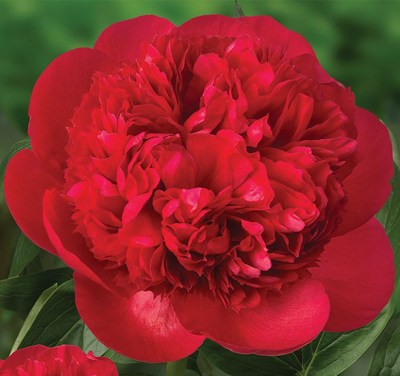 Full double, bomb-shaped flowers of bright carmine red color. Petals tightly packed to the center, which is pushed up in the maturing process resulting in huge and stunning bomb-shaped flowers. No sidebuds. Delicously scented flowers seldom seen amongst true red peony cultivars.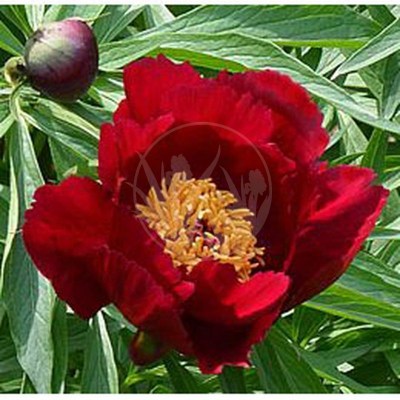 Flowers single to semi-double, deep red with contrasting yellow anthers. One of the earliest of all peonies to bloom. Low growth. Dissected leaf foliage (inherited from its parent P. tenuifolia (´Richard Carvel´ × P. tenuifolia) makes a very attractive plant even after the flowers have gone. Suitable as a cut-flower, blooms hold well when cut.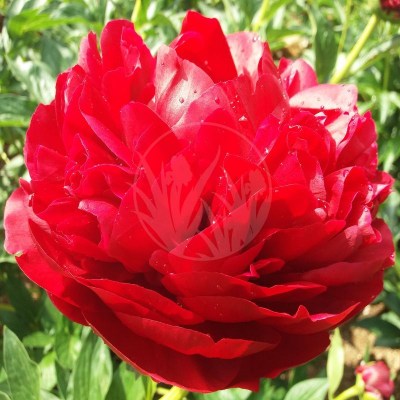 Full double, huge dinner plate size, rich cardinal red, excellent flowers. True red flower color comes from it being a Paeonia officinalis x lactifora hybrid. The last flowering peony of this hue in the season. Excellent grower, but slow of increase, sparse bush, heavy and tall stems. Highly prized as a cut-flower. Stunning presentation in the garden.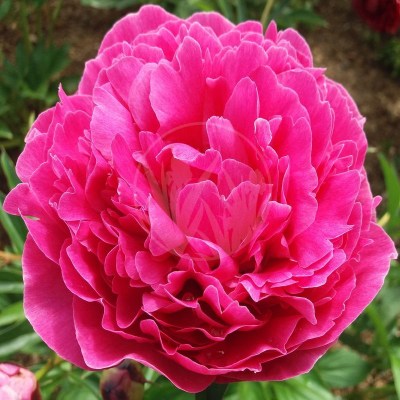 Double, rosy red to deep pink flowers. A very showy flowers, freely blooming sort. Normal grower, thick strong woody stems makes Kansas especially good for cutting.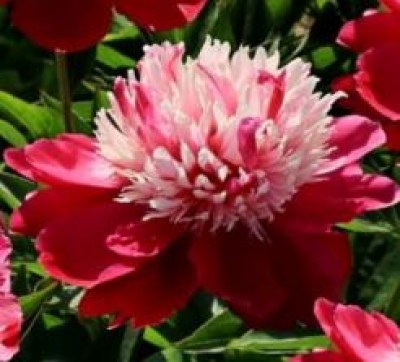 Flower simple - japanese form, magenta or deep burgundy guard petals and a somewhat flattened center of petaloids which are creamy white and drenched with many tints of pink. A couple of magenta petals are always poking through in this center dome, adding much to the excitement of these flowers. Nice dark green leaves and very rigid stems, excellent upright habit. Flowers pleasantly fragrant. A very good peony, striking color combinations, recommended...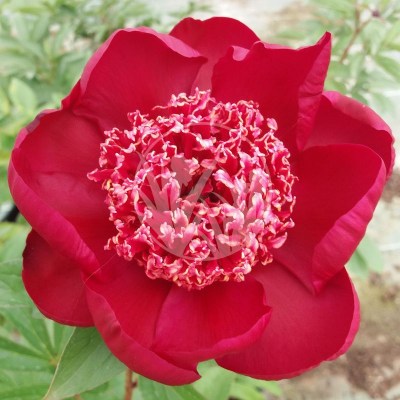 Flowers dark red, simple - japanese type, staminoides sharply incurved, flushed and edged yellow. Dark red stems and dark green leaves. Compact and attractive plant habit, masssive flowering, beauty of the flower color contrast... Very popular sort.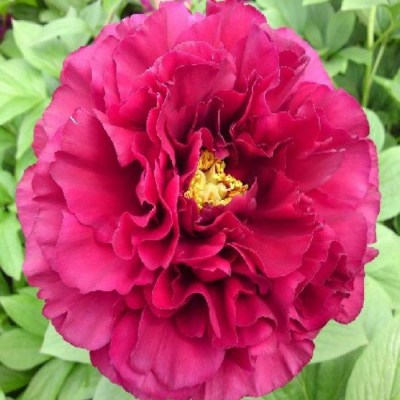 Flowers large, dark velvet red, double, with heavy substance of the petals. Highly prized, in our opinion, this is the best in its class. Flowers lightly fragrant. Strong stems and healthy, dark green foliage. Excellent as a cut-flower. American Peony Society Gold Medal Winner (1997), Award of Landscape Merit Winner (2009). Simply...one of the best!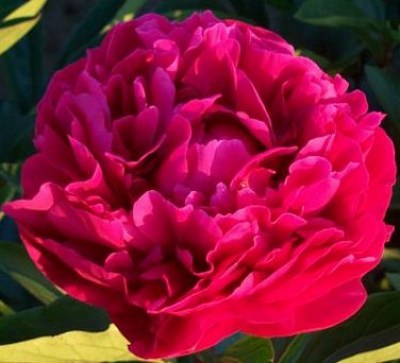 Large, double, velvety ruby-red flowers, beautifully formed. Graceful foliage, strong stems, excellent plant habit. A splendid peony….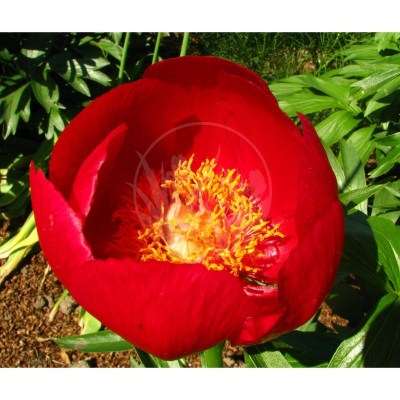 Flowers single, deep shining red , cup shaped, stamens yellow. Natural species distributed in south-eastern Europe. Very early flowering (May). Precious species suitable natural gardens and sunny places, especially good in combination with taller perennials. PAEONIA POTTED WE DO NOT SEND BY POST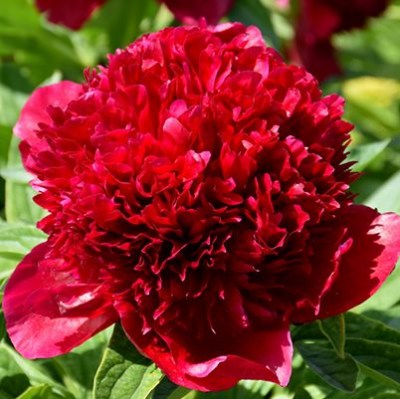 Sensational deep red double flowers. Flowers large (20 cm), perfectly formed. Mild sweet fragrance. The stems are strong and hold the large blooms erect. Excellent foliage. One of the best red coloured peonies, excellent for cutting.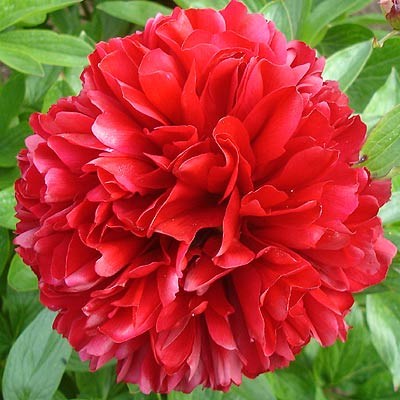 Flowers extremely large, dark, clear crimson red, double, forms a complete ball as the bloom expands to full size. Early blooming with no fuchsia or purple tones. Strong stems, height 80 cm.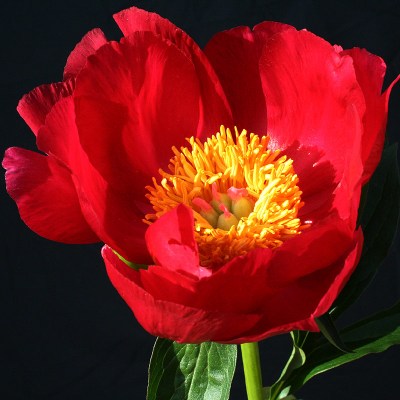 Large, fiery red single flowers and contrasting golden stamens on strong stems come from breeding P. lactiflora x P. officinalis. Superb, rich green foliage on a very vigorous, easy to grow plant. If you have a full sun garden, you need this peony for sure…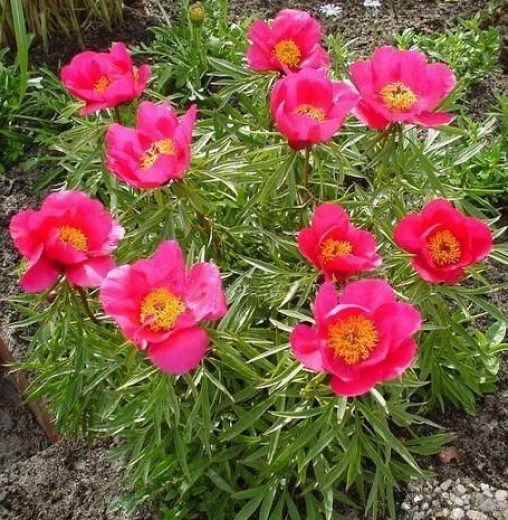 Flowers single, bright scarlet. It is a hybrid between P. tenuifolia and P. lactiflora, the oldest known interspecific hybrid created out of China. Plants are multiflowered, flowers fragrant, sterile. It blooms very early. Cut leaf foliage, that even after blooming, makes a wonderful border plant.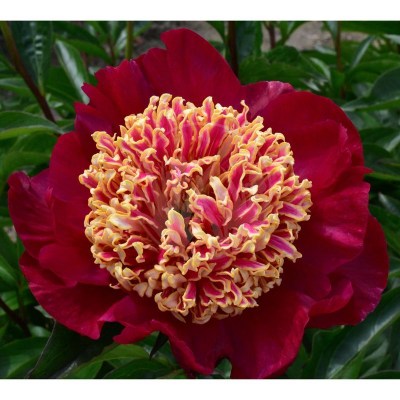 Large bright red petals surround a large center of yellow edged staminodes streaked with red. A very appealing color effect, color holds well. Vigourous and floriferous sort, heat and wind resistant. Great for cutting.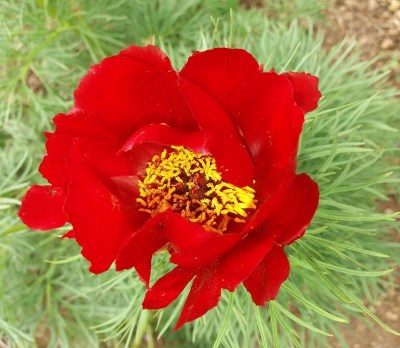 Finely cut leaves, single bright red petals and golden yellow center. Height 30-40 cm. Need very sunny position and well drained soil, excellent for rock gardens. Natural wild species, very rare. Root size 3/5 eye.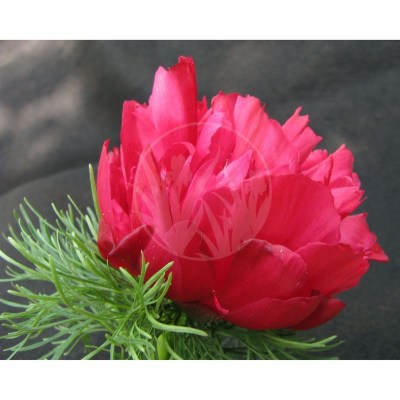 RARITY! Splendid, brilliant glowing crimson red double flower. Finely cut leaves, normal grower. Need very sunny position and well drained soil. Natural wild species, very rare.