TB - Tall Bearded Irises
Tall Bearded Irises are the most common group of irises, often called garden irises. In this group you will find large-flowered irises, usually 70 cm to 120 cm high. They begin to flower in Europe around 10th of May . We cultivate them with love in our country in South Moravia region, Czech Republic. They are easy to grow and fully frost-resistant. From several tens of thousands of bred varieties you can find here our selection of the best, easily grown sorts coming from European and American breeders. Flowers are large, mostly wavy, sometimes of exotic shapes, one- or multicolored, differently dotted or stripped, often pleasantly fragrant. Flowers grow on one main and 2-4 side stems. Each of them has 1-3 buds, so gradually 7-12, even 15 flowers bloom in one plant. These irises love sunny position, are suitable for planting individually, or together with other perennials. Flowers are very suitable for cutting.
For better orientation, you can sort the TB irises on these pages by height into two groups:
Tall Bearded Irises - high above 90 cm
Tall Bearded Irises - high up to 90 cm (71-89 cm)
It is also possible to sort by flower type:
Self – i.e. one or more tones of one color
Bicolor – i.e. two different basic colors
Plicata – on a white or colored base are striped, dotted, splashed,..
Space Ager – have extended beards up to a few cm in length - in the form of horns, spoons...
Broken Color - have a basic color dark with wild light splashing, or light with dark pattern
...and sort by flower color or fragrance.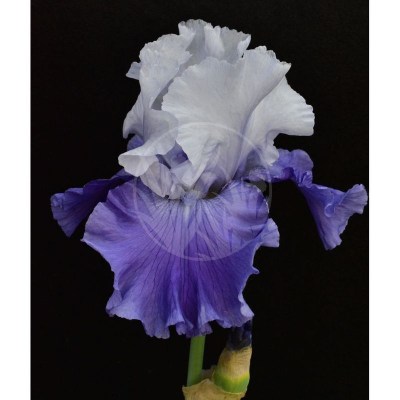 Standards pale blue, falls deep marine blue with light violett infusion, lighter on the edge, beards blue. Flowers of medium size, heavily ruffled. Pronounced fragrance.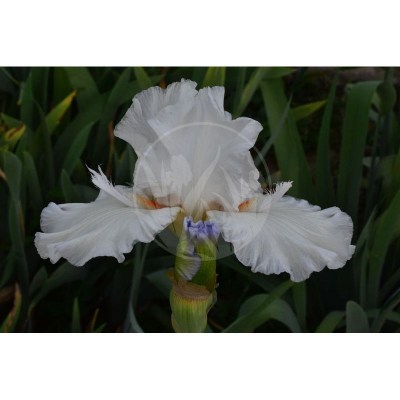 Bright white flowers, beards red orange with long, very pale blue flounce turning up at end. SA type. Flowers of medium size, ruffled. Slight sweet fragrance. Unique Space Age type.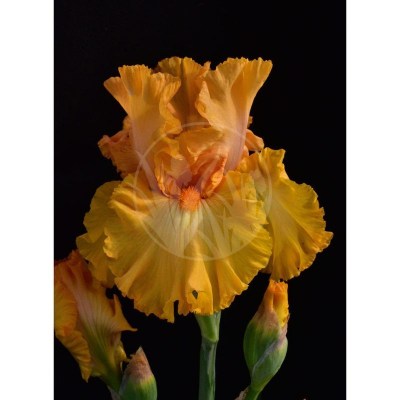 Deep orange yellow standards, slightly darker on the edges. Wide orange yellow falls with red beards. One of the best variety in this colour category. Exceptional form with strong ruffles. Late flowering season.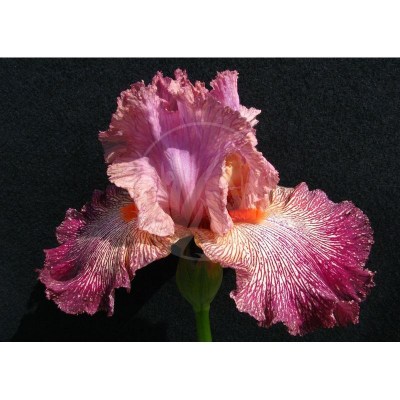 Raspberry pink standards, deeper rose falls distinctly veined, bright tangerine beards. Big flowers, nicely ruffled. Perfect branching of the stem, good bud count. Prolific and vigorous, healthy growth.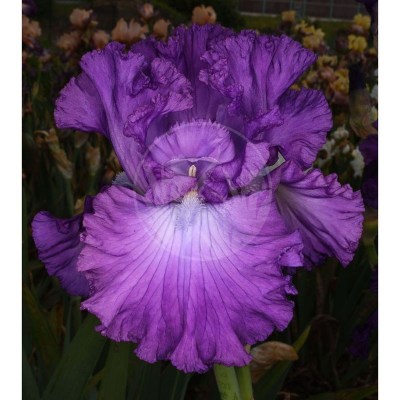 Rich color of royal purple standards and falls, round ruffled and lightly laced form. A hazy blue wash accents the light blue beards. Strong and tall stature. Precious form.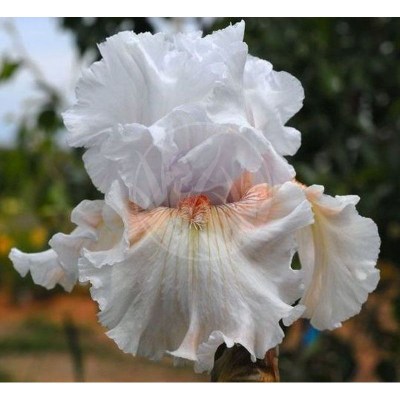 Standards white with fine pink venation, falls broad, curved, gold and deep pink at base, darker venation, beards white, tipped orange. Fine spicy fragrance.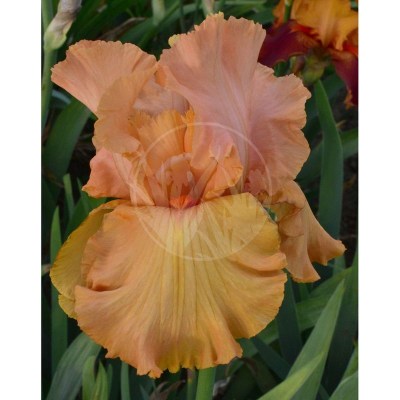 Flowers in tones of orange and apricot, glowing tangerine beards. Petals nicely ruffled. Reliable and precious form.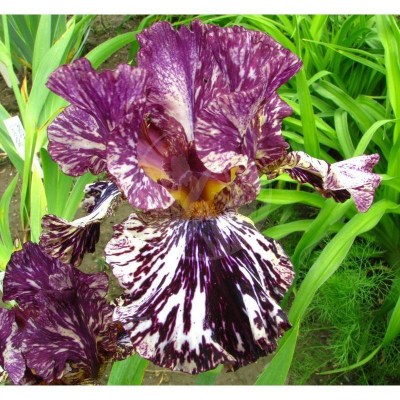 Standards and falls with outrageous combination of purple, gold and white, yellow-brown beards. Well-branched stem, reliable grower.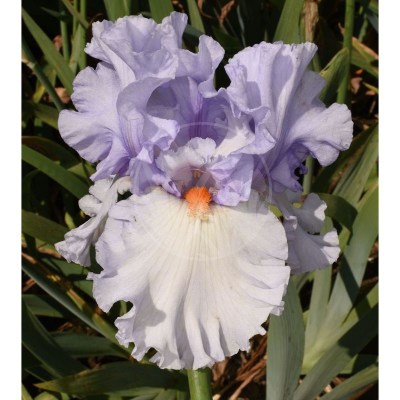 Standards icy blue-lavender,falls near white, palest icy blue blush. Beards white heavily tipped vibrant tangerine. Slight sweet fragrance.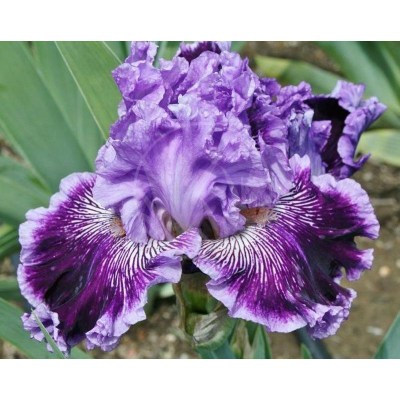 Standards lavender lilac, falls rich violet with lilac edge, heavily veined white pattern around beards, very ruffled. Beards bright tangerine. Pleasant sweet fragrance.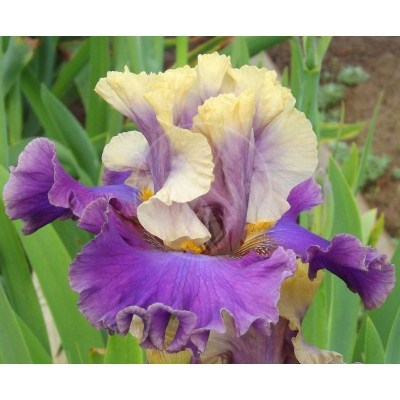 Standards antique lemon infused with light violet, falls bright blue-violet to rosy-violet, deepening to blue violet around the gold beards. Exceptionally ruffled flowers, excellent sort.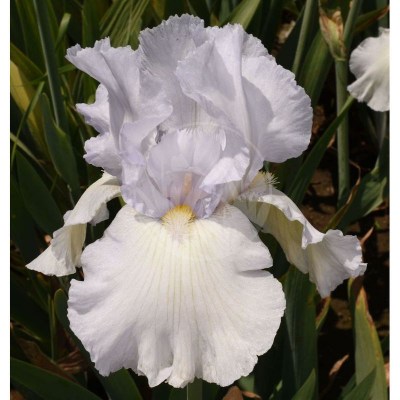 Foliage heavily streaked cream, base dark red purple. Standards and falls light blue with darker venation. Beards icy blue. Fine sort with variegated leaves.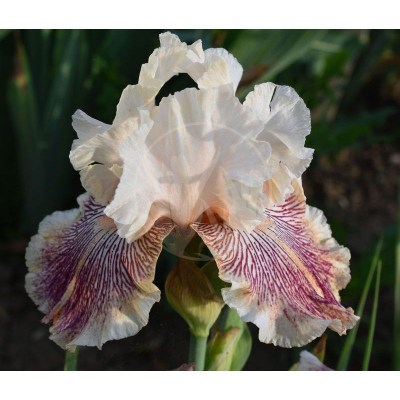 Standards white, with light apricot shadow, falls white, even violett or maroon veining near full length, diffusing at end with white band. Beards bright tangerine. Lovely sort.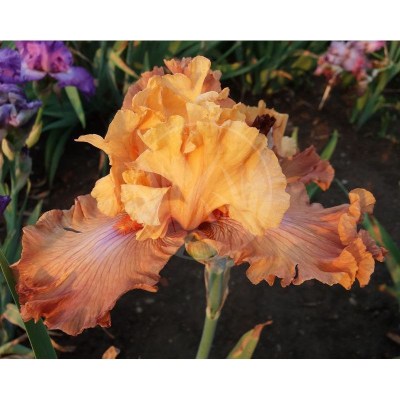 Standards coral orange, lightly ruffled, falls coral orange-sienna, large violet flash beside and below beard, ruffled and flared. Beards orange. Fine pleasant fragrance.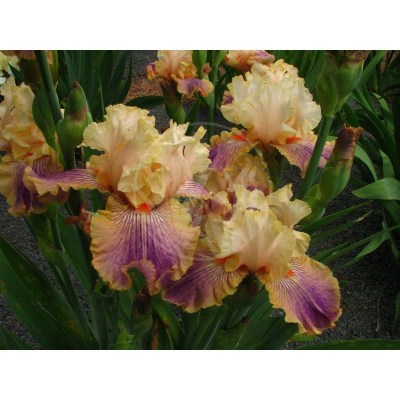 Standards warm white blushed metallic pink over center blending paler toward edge to darker tan-gold margins, fine darker pink veins, falls pale cream-white center, haft heavily veined tan brown to wide gold peach haft...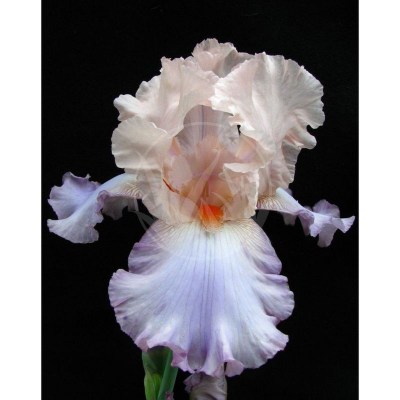 Apricot-pink standards nicely complement the ruffled blue-lavender or light violet falls. Beards orange. Highly valued sort, delicate flowers. Excellent growth and rich flowering. Fine fragrance.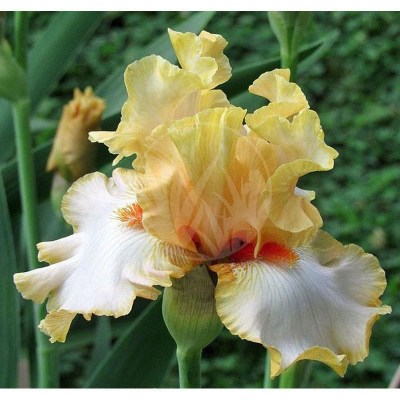 Standards apricot yellow, falls ruffled, creamy white with apricot yellow edge. Beards tangerine orange. Fine sort, good also in combination with high perennials.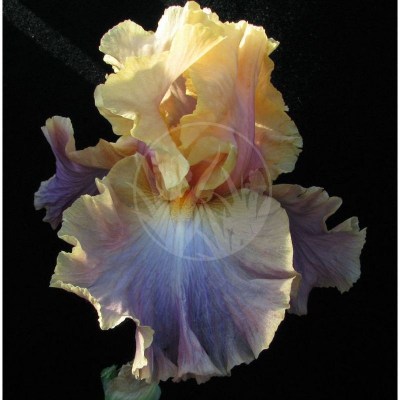 Standards peach pink, purple blended up midrib, falls buff, lavender and blue blend, violet veins, ruffled. Beards tangerine. Fine combination of colors, very suitable for a vase.