TB - Tall Bearded Irises
Tall Bearded Irises are the most common group of irises, often called garden irises. In this group you will find large-flowered irises, usually 70 cm to 120 cm high. In Europe, they come into bloom on around 10th May . We cultivate them with love in South Moravia region of the Czech Republic. They are easy to grow and fully frost-resistant. From tens of thousands of bred varieties you can find here our selection of the best, easily grown sorts coming mainly from European and American breeders. Flowers are large, mostly wavy, sometimes of exotic shapes, one- or multicolored, differently dotted or stripped, often pleasantly fragrant. Flowers grow on one main and 2-4 side stems. Each of them has 1-3 buds, so 7-12, even 15 flowers gradually bloom in one plant. These irises love sunny locations; they can be planted individually, or together with other perennials. Flowers are very suitable for cutting.
For better orientation, TB irises on these pages is possible to sort by height into two groups:
Tall Bearded Irises - higher than 90 cm
Tall Bearded Irises - up to 90 cm (71-89 cm) high
They can also be sorted by their flower type:
Self – i.e. one or more tones of one color
Bicolor – i.e. two different basic colors
Plicata – striped, dotted, splashed etc. on a white or colored base
Space Ager – with beards extended to a few cm in length - in the form of horns, spoons...
Broken Color – basic dark color with wild light splashing, or light background with dark pattern
...or sort by flower color or fragrance.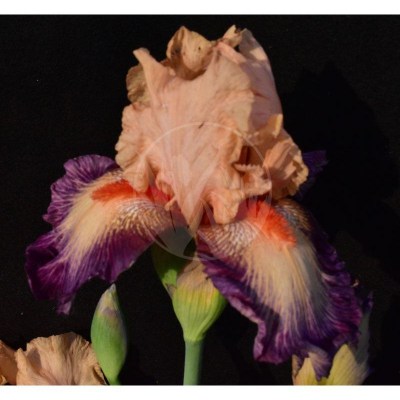 Standards light pinkish chamois, falls bright pinkish purple, large cream to salmon center. Beards bright, orange red. Excellent sort with perfectly branched stem. Fine fragrance.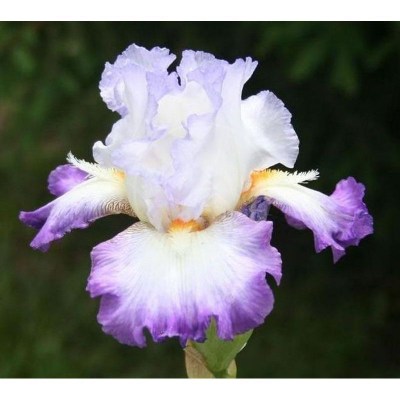 Standards white, lightly infused pale violet blue, falls white, suffusing to deep bright amethyst violet edge. White, horns-like beards tipped tangerine (SA Type). Flowers ruffled. Late flowering, very long and slim...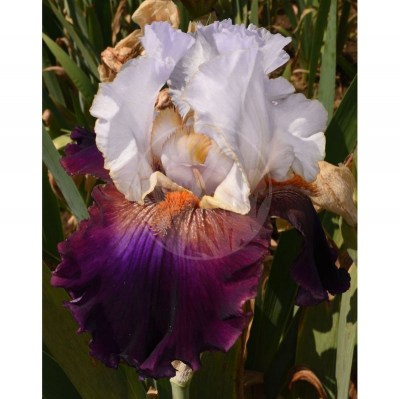 Standards blue white, ruffled, falls purple, shoulders blended with red, white stripes around red-orange beards. Healthy growth.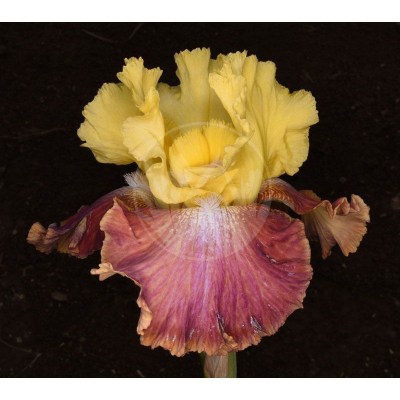 Standards light yellow, falls claret magenta with white blaze around beards. Beards yellow in throat, cream in middle, white at end. Flowers nicely ruffled.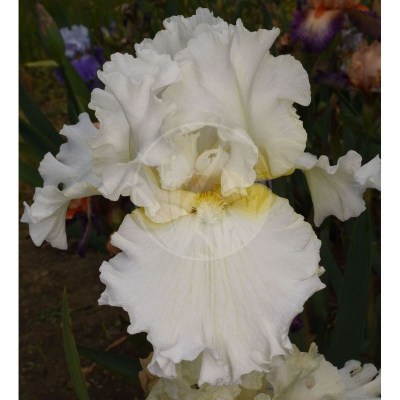 Standards cream white, heavily ruffled, falls cream white with dark lemon hafts. Beards yellow at base, white at end. Flowers beautifully ruffled. Slight spicy fragrance.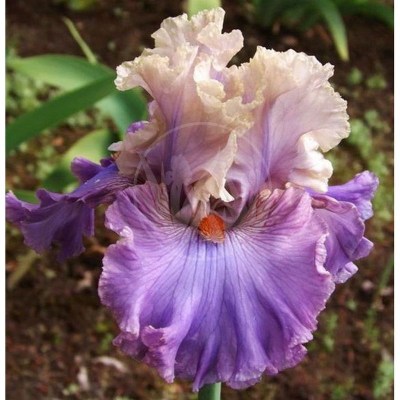 Standards champagne buff with a flush of violet at the midribs, falls soft pastel violet blended over buff with a deeper violet flash below the beards, falls with dark veining. Flowers ruffled. Pronounced sweet...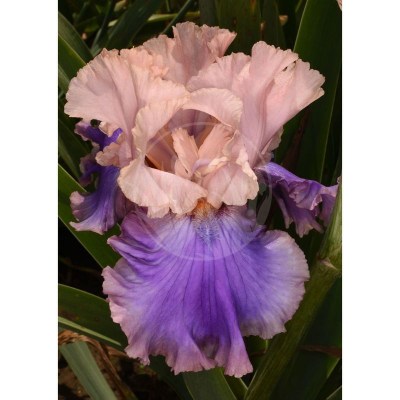 Standards peach pink standards, wide ruffled lavender violet falls with a thin rosy pink band. Coral orange beards in throat, light blue at end. Precious and highly recommended sort.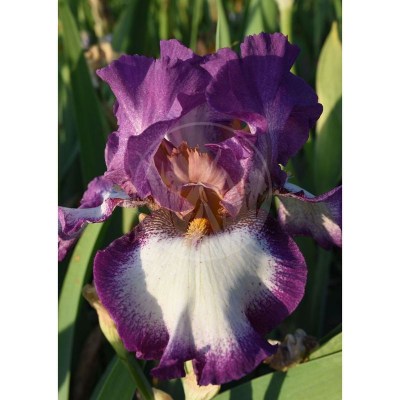 Standards violet-pink stitched on almost in´visible white ground, falls white ground stitched purple, more intensively on the edge. Beards ocher yellow. Flowers ruffled, very early bloom.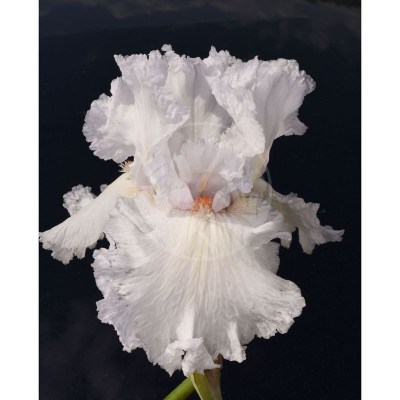 Standards blue white, falls light lavender blue, beards mandarin red. Big flowers, nicely ruffled. Very fine sort. Slight sweet fragrance.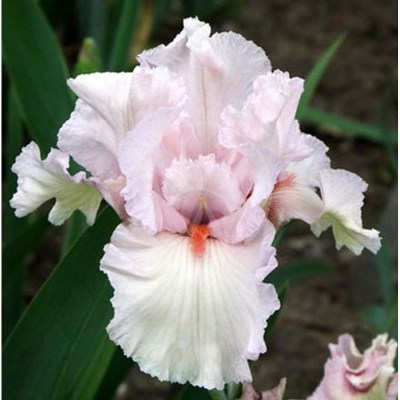 Medium bright pink self, beards bright coral. Ruffled flowers, vital and healthy growth. Pronounced sweet fragrance.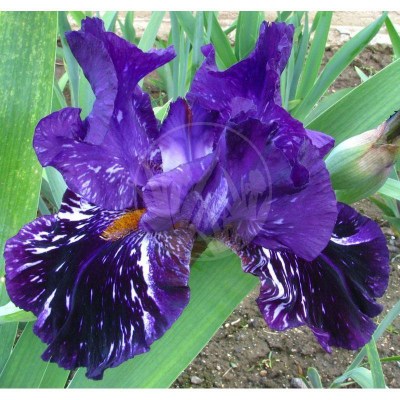 Standards medium violet with random off-white splashes, falls dark violet with random white breaks and splashes. Beards burnt orange tipped medium violet. Flowers ruffled. Slight pleasant fragrance.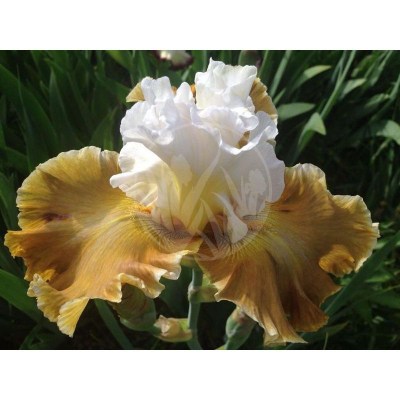 Standards white, slight olive-yellow at midrib, falls olive green to light yellow-brown, faint white edge, ruffled. Beards mustard yellow. Great sort in high demand.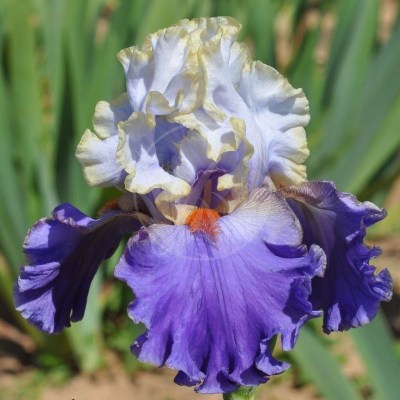 Standards light blue with faint yellow gold rim, falls lavender blue, precisely ruffled. Beards red-orange. Excellent sort. Slight sweet fragrance.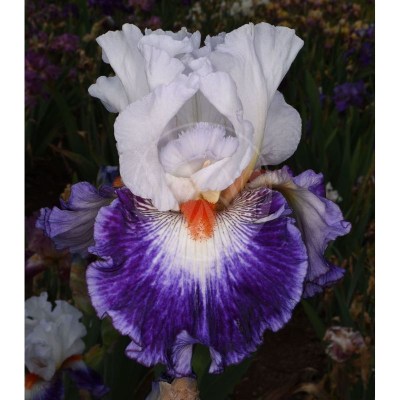 Standards blue white, falls blue violet marbled wash and wire rim on paler blue, white center and hafts veined violet. Beards ramarkable, vivid red. Great and precious sort, many awards. Fine pleasant fragrance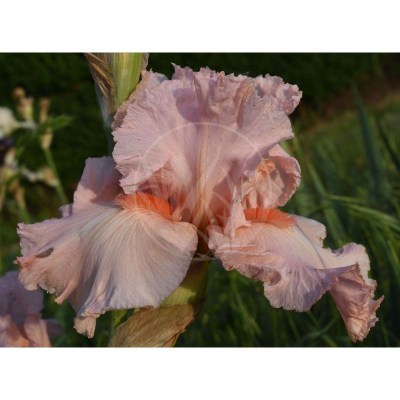 Standards ruffled, lightly laced, pink, falls pink with paler center, ruffled, laced. Beards coral orange-red. Leaf base purple. Probably the most hardy and vigorous hybrid of any pink Iris.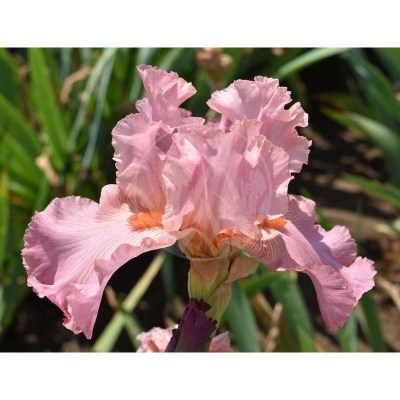 Ruffled pure cyclamen pink self, paling with age. Beards orange red. Unique coloration, excellent sort. Sweet floral fragrance.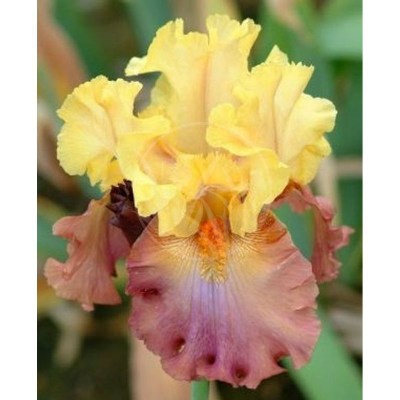 Standards golden-yellow, ruffled, falls pink-violett with honey shadow around beards lighter eye. Beards yellow-orange. Beautiful, big flowers (15 cm), very ruffled. Very popular.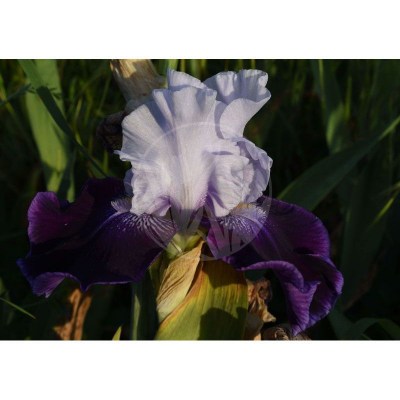 Standards pale blue, darker crystalline rim, midrib violet, falls dark velvety purple, narrow medium violet rim, white veins by and dart at end of beard. Beards orange gold in throat, violet at end. Pronounced sweet...