TB - Tall Bearded Irises
Tall Bearded Irises are the most common group of irises, often called garden irises. In this group you will find large-flowered irises, usually 70 cm to 120 cm high. In Europe, they come into bloom on around 10th May . We cultivate them with love in South Moravia region of the Czech Republic. They are easy to grow and fully frost-resistant. From tens of thousands of bred varieties you can find here our selection of the best, easily grown sorts coming mainly from European and American breeders. Flowers are large, mostly wavy, sometimes of exotic shapes, one- or multicolored, differently dotted or stripped, often pleasantly fragrant. Flowers grow on one main and 2-4 side stems. Each of them has 1-3 buds, so 7-12, even 15 flowers gradually bloom in one plant. These irises love sunny locations; they can be planted individually, or together with other perennials. Flowers are very suitable for cutting.
For better orientation, TB irises on these pages is possible to sort by height into two groups:
Tall Bearded Irises - higher than 90 cm
Tall Bearded Irises - up to 90 cm (71-89 cm) high
They can also be sorted by their flower type:
Self – i.e. one or more tones of one color
Bicolor – i.e. two different basic colors
Plicata – striped, dotted, splashed etc. on a white or colored base
Space Ager – with beards extended to a few cm in length - in the form of horns, spoons...
Broken Color – basic dark color with wild light splashing, or light background with dark pattern
...or sort by flower color or fragrance.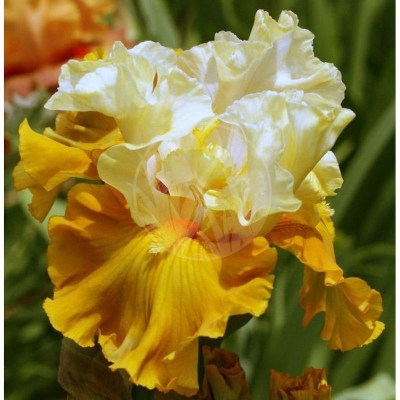 Standards white, center flushed yellow, falls golden yellow, velvet texture, ruffled. Beards orange in throat, yellow at end. Slight sweet fragrance.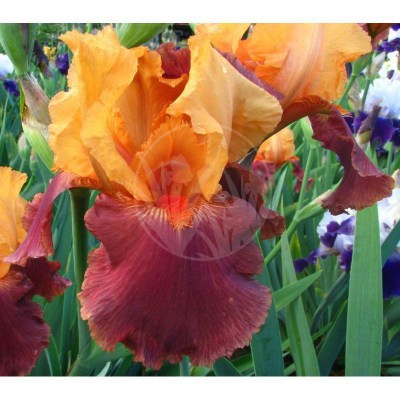 Standards bright orange, falls bright strawberry red. Beards orange red. Beautiful sort, healthy growth, fine combination of colours.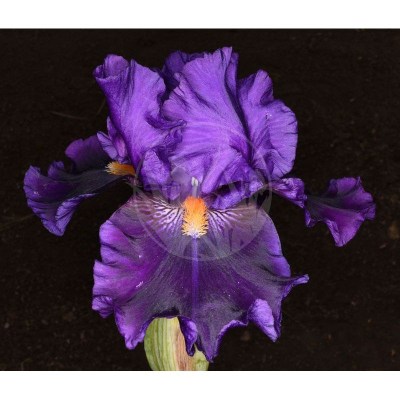 Standards dark purple-violet, falls velvety-purple black, with paler edges, ruffled. Beards wide, bright red-orange create a stunning contrast to the dark colour. Slight spicy fragrance. Strong stalks with many buds....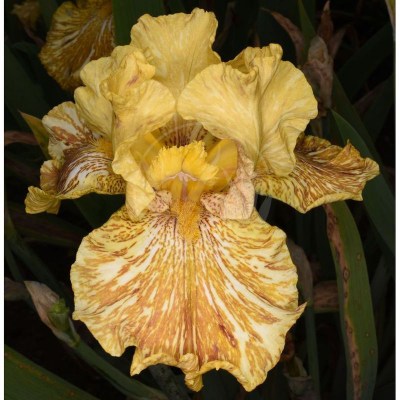 Standards pale golden yellow streaks, falls caramel brown stripes on golden yellow ground, off-white streaking, lightly laced, ruffled. Beards beige. Slight fragrance. Unique color pattern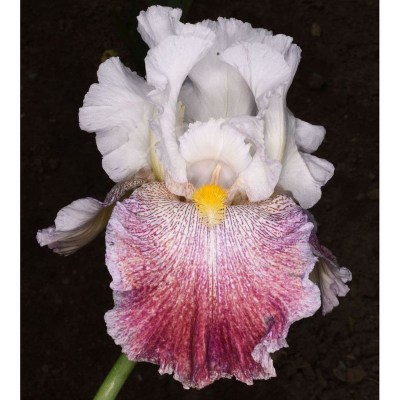 Standards warm white, pale gold rim, falls in upper half white, lined and sanded burgundy plicata, lower half medium gold sanded amber rust becoming heavier and darker toward edges, warm white edge, ruffled, lightly...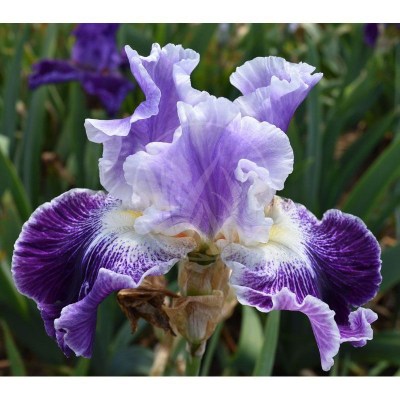 The lavender-orchid blue standards pales at the edges, creating an ethereal effect. A white circle and veining pattern vividly contrasts the rich violet-purple color of the ruffled falls.Beards red in throat, yellow...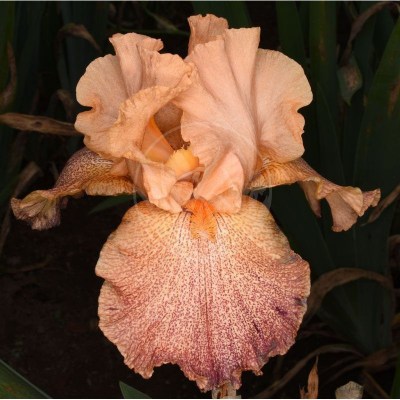 Standards deep tangerine, falls tannish orange ground with stippled red wine overlay, ruffled, flared. Beards light orange. Unique color combination, fine sort.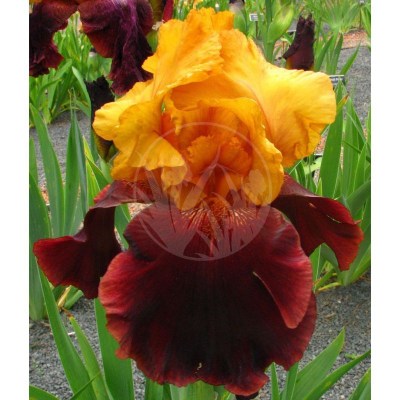 Arched golden ochre yellow standards and solid rich mahogany-red falls, ruffled. Beards mustard yellow. Big flowers. 8-9 buds on extra-sturdy three-branched stems. Boldness in size, color and habit. Excellent sort.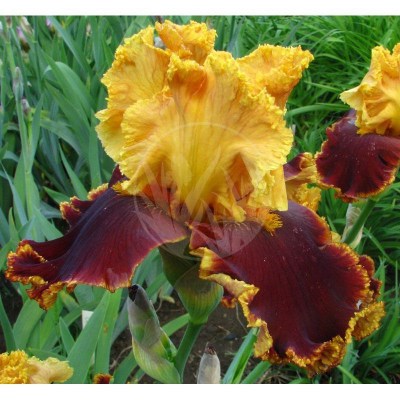 Standards laced, bright gold deepening to rich old gold at midrib, falls mahogany red-brown with bright gold laced edge, ruffled. Beards mustard yellow. Pronounced sweet fragrance.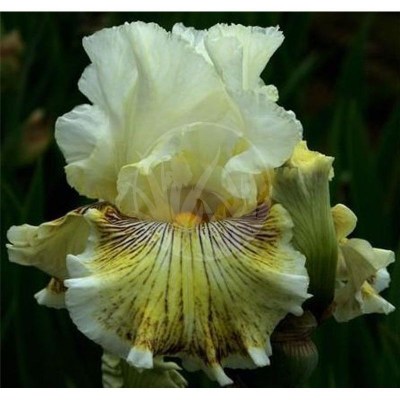 Standards white flushed yellow, falls medium yellow, lighter below beards, overlaid with purple-brown veins, wide white edge. Beards yellow-orange. Purple based foliage. Slight fragrance.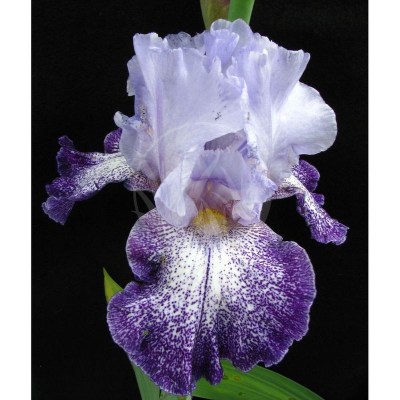 Standards blue to pallid violet, falls white ground, allover peppering of purple dots more concentrated at edge, lightly ruffled. Beards light blue tipped golden yellow. Precious sort.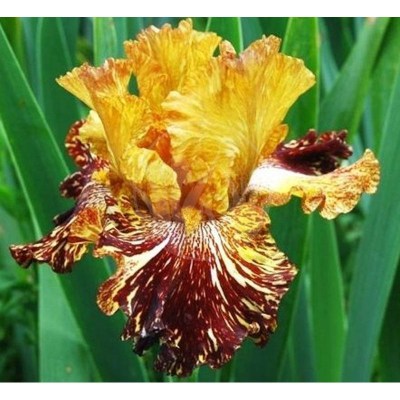 Standards light brown splashed butter yellow, falls mahogany brown with silver white streaking, crinkled edges, ruffled.. Beards golden brown. Pronounced spicy fragrance.
Ruffled standards and falls cranberry violet, lighter around beards, fine violet venation. Beards white, bushy. Big flowers, healthy growth.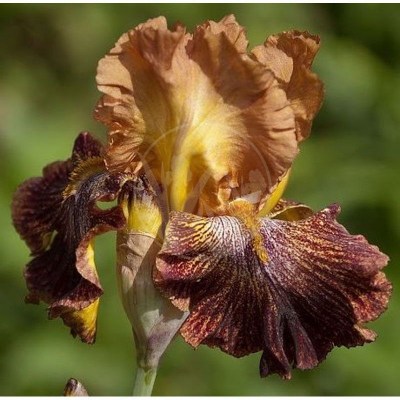 Standards light brown, dotted, lightly veined cocoa brown, falls yellow brown, heavily dotted lavender around mustard beard, heavily washed dark brown, edged lighter, very ruffled. Pronounced spicy fragrance. Unique...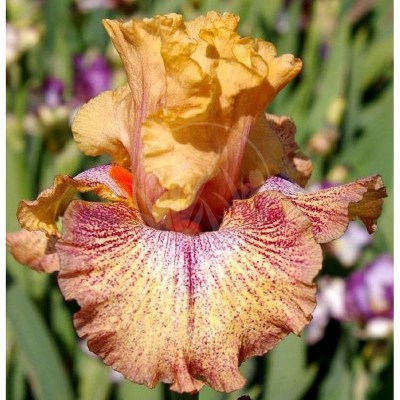 Standards apricot orange, falls lemon apricot ground with fine dot-wash of rose violet, heaviest toward hafts, ruffled. Beards red orange. Pronounced spicy fragrance. Very nice sort.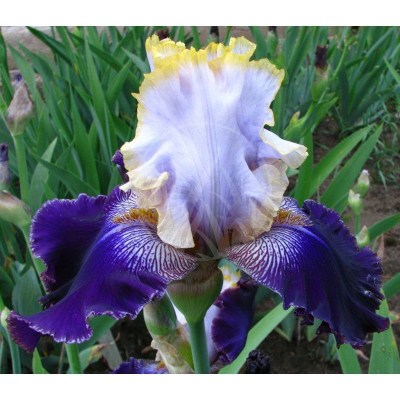 Standards white shaded orchid lavender, slight blue veining, gold rim, falls dark velvety blue purple, slightly lighter rim, white area around gold beard with purple veining changing to brown, ruffled. Slight sweet...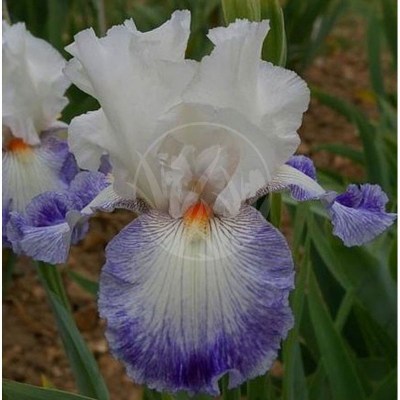 Standards pure white, falls white with bright violet blue edge and veins. Beards orange red. Huge flowers on perfect stem with 8 to 9 buds. Sweet floral fragrance.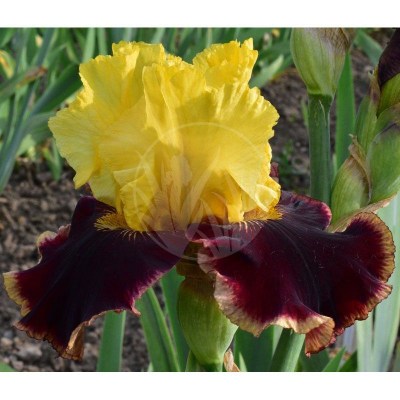 Standards lemon yellow shaded honey buff, falls ruby to plum, honey-yellow edge. Beards golden yellow. Flowers nicely ruffled. Pronounced sweet fragrance.